Desai joins Radiation Oncology leadership
Kajal Desai, M.P.A., has joined the Department of Radiation Oncology as Department Administrator overseeing all the academic, financial, and HR functions.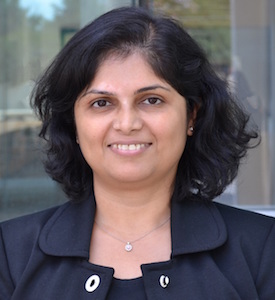 Ms. Desai will work with Department Chairman Hak Choy, M.D., and division chiefs Claire Almanza, Aileen Hayashida, and Sandy Durr to provide strategic leadership, oversight, and management of all aspects of the day-to-day administration of the department as related to budget planning, fiscal and resource planning and administration, human resource utilization, policy administration, and coordination and negotiation of activities with other entities. She will also have a significant role as liaison between the Department and UT Southwestern's Academic Affairs COO.
Ms. Desai joins us from the Department of Surgery at NYU School of Medicine where she was departmental administrator for the past nine years preceded by five years of progressive experience in that department. She was at Memorial Sloan-Kettering Cancer Center for four years prior to NYU. She has a Master's of Public Administration in Health Management and Finance from NYU.