First Gamma Knife Icon in Texas allows frameless treatment option for brain cancer and metastases
The new Gamma Knife "Icon" being installed this month at the Annette Simmons Stereotactic Treatment Center at Zale Lipshy University Hospital will be the first in Texas to allow stereotactic radiosurgery without placement of a head frame. Physicians at the center plan to begin treating patients with the new Gamma Knife in January.
"Our new Gamma Knife Icon, the sixth and latest generation of the device, has been specifically designed to deliver a highly effective dose of radiation to an intracranial tumor or vascular malformation with the lowest possible radiation exposure to the surrounding normal brain and cranial nerves," says Bruce Mickey, M.D., Professor of Neurological Surgery." This emphasis on brain protection, one of the founding principles of the UT Southwestern Peter O Donnell Brain Institute, drove the decision to upgrade to this technology."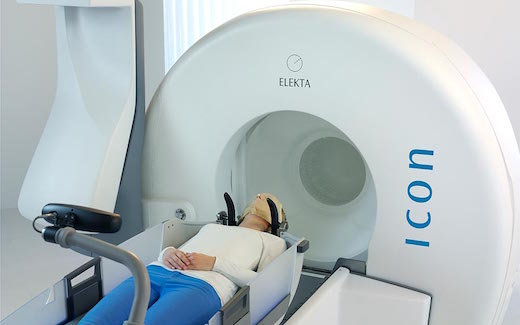 For decades, Gamma Knife radiosurgery has been the gold standard for cancer patients with inoperable brain tumors or brain metastases. With highly precise delivery of gamma rays, it can also eliminate arteriovenous malformations and certain other pain and movement disorders that originate in the brain.
Until now, Gamma Knife treatment was a single day procedure that required the attachment of a head frame to the patient's skull to prevent movement during treatment. The new Gamma Knife will enable patients to receive treatments over the course of several days, rather than in just one session. Previous versions of the Gamma Knife could not feasibly deliver multiple treatments because the rigid head frame could not be put on daily or left on for many days.
"Radiation is more tolerable to normal tissues if given in multiple smaller daily doses called 'fractions' as compared to single potent doses called radiosurgery," says Robert Timmerman, M.D., Professor of Radiation Oncology and Director of the stereotactic center. "Some targets in patients are close to, or even intermingled with, normal tissue making radiosurgery difficult to tolerate. Fractionating the treatment can be useful in these circumstances."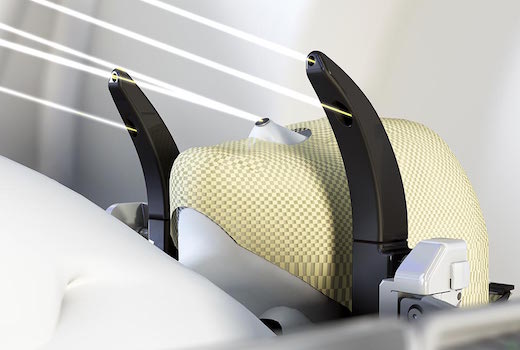 The updated Gamma Knife offers several other advantages, including an expanded treatment area that includes the face and upper neck, and the ability to deliver staged treatments where only a portion of the total target is treated.
The new technology will be particularly advantageous for patients with brain metastases who, more and more, are being treated with radiosurgery instead of whole brain radiation at UT Southwestern.
"More than almost any other center, we aggressively treat patients with brain metastases with radiosurgery in order to spare them the neurocognitive toxicity associated with whole brain radiation," says Assistant Professor of Radiation Oncology Zabi Wardak, M.D., a member of the clinical team specializing in treating central nervous system disease.
"With improvements in systemic therapy offered by medical oncologists, patients are living longer after developing metastatic disease and are more likely to suffer long-term neurocognitive toxicity from whole brain radiation. Thus it becomes even more imperative to offer them treatments that lower the potential of neurocognitive toxicity."
For patients with numerous separate tumors (more than six), it could be exhausting for the patient to have all the targets treated in a single day. The new Gamma Knife enables a more tolerable treatment schedule distributed over several days.
The head frame, physicians emphasize, is still useful in instances where ultimate precision is demanded, such as when a tumor is located close to critical structures in the brain or when it is desirable to deliver a full dose in a single fraction.
"Combining the Gamma Knife Icon with our new CyberKnife gives us a full suite of capability to treat central nervous system disease with precision unmatched anywhere in North Texas," says Dr. Timmerman.
Dr. Mickey holds the William Kemp Clark Chair of Neurological Surgery.
Dr. Timmerman holds the Effie Marie Cain Distinguished Chair in Cancer Therapy Research.