Residency program director named
Michael Folkert, M.D., Ph.D., has been charged with leading the department's Radiation Oncology Residency Program.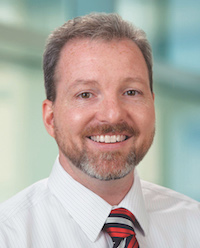 Observing his two-year anniversary with the department this month, Dr. Folkert says he relishes the opportunity to be more closely engaged with the training of the medical residents.
"Our program has grown significantly over the last few years," Dr. Folkert says. "I look forward to continuing our momentum in attracting top candidates and making sure they receive a well-rounded educational experience."
Dr. Folkert is an Assistant Professor of Radiation Oncology specializing in cancer treatment with brachytherapy. He earned undergraduate and graduate degrees in nuclear engineering at MIT before going on to earn his M.D. from Harvard Medical School. He completed his professional training with a radiation oncology residency at Memorial Sloan Kettering Cancer Center in New York.
Dr. Folkert takes over the reins from Jeffrey Meyer, M.D., who led the program from 2012.