Resident wins top award at AMA Research Symposium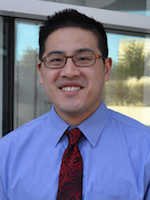 The American Medical Association (AMA) selected Stephen G. Chun, M.D., a radiation oncology resident at UT Southwestern Medical Center, for its top award recognizing research from medicine's brightest young minds.
Dr. Chun was named the overall winner among medical residents and fellows for his podium presentation on treating early-stage glottic larynx cancer with CyberKnife during the 12th annual AMA Research Symposium. The symposium, held in Dallas, included presentations from more than 400 medical students, residents, fellows, and international medical graduates.
The pioneering CyberKnife clinical trial at UT Southwestern has treated two cohorts of patients with vocal cord cancer – one receiving a 15-fraction dose and the other receiving 10 fractions – and is now beginning to treat patients with a 5-fraction regimen.
"Our residency program is one of the few in the country where residents have the chance to work on developing prospective clinical trials," Dr. Chun said. "[UT Southwestern Professor and Medical Director] Dr. Robert Timmerman and members of our head and neck cancer team were the champions of this approach and gave me a unique opportunity to help them bring the trial to fruition."
"We have a culture here where we want to make a difference," he continued. "We hope that these results will eventually motivate a larger, multi-institutional trial if we see good outcomes from this approach."
"The work of Dr. Chun and other young physicians and medical students demonstrates that the future of medicine looks very bright," said AMA President Robert M. Wah, M.D. "The research presented at this year's AMA Research Symposium provides valuable information for current and future physicians. These advances will help them provide the best possible care for patients."
The AMA Research Symposium is organized by the AMA Medical Student Section, the AMA Resident and Fellow Section, and the AMA-IMG Section.