A Day in the Life of a Research Track Resident
My Background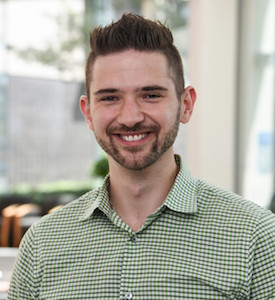 As the son of two psychiatric nurses in the United States Air Force, I grew up in places across the country until settling in nearby sunny Tampa Bay, Florida. After briefly flirting with a career in computer science, I fell in love with biologic sciences and research while majoring in Biochemistry and Psychology at the University of Florida. From there, I joined the Medical Scientist Training Program at the University of Illinois at Chicago where I studied the role of G-protein signaling in depression in fulfillment of my Ph.D. in Neuroscience. Through these experiences, I have become passionate about the biologic basis of psychiatric illness and contributing to the scientific community's knowledge regarding the diagnosis and treatment of these diseases.
Why I Chose UTSW
For my residency search, I looked for a program that best balanced clinical training, research support, and personal wellness. As one would expect from a good scientist, I traveled across the country to acquire as many data points as possible. While I enjoyed many programs, for me, UTSW was the ideal balance.
Clinically, I was impressed with the four teaching hospitals: William P. Clements Jr. University Hospital, Parkland Memorial Hospital, Children's Health℠ Children's Medical Center of Dallas, and the North Texas VA Hospital. While it certainly did not hurt that two of these opened within a year of my matriculation, I was particularly excited that UTSW is one of only two psychiatry residency programs in the mammoth Dallas-Fort Worth metropolitan area. Needless to say, there has been no shortage of unique clinical presentations in this diverse patient population.
Of course, as a budding psychiatrist-scientist, institutional support for research during residency was critical. During my interview at UTSW, the program was able to extend my interview an extra day to meet with my tailored list of researchers as well as current research track residents. Although I was fortunate to find a mentor who aligned with my interests, I was more excited about the department's energy and support for training future researchers. I left with confidence, which I still hold, that the research track residency will prepare me well for a career as an independent investigator.
At the end of the day, however, none of this mattered if I was not going to be happy where I lived. Despite living all across the United States prior to residency, Texas was new to me. I heard from friends and colleagues their hesitation with my interest in Dallas, many of whom held negative stereotypes. Instead, I was met with a dynamic and friendly metropolitan area that is easily accessible given the university's location near the downtown core and the very reasonable cost of living. It has made work-life balance not just do-able, but relatively easy. Between this and the clinical and research opportunities, I am eager to recommend our research track residency to any prospective applicant.
A Typical Day
As a PGY-3, our clinical time is exclusively outpatient so we have even more flexibility for research time. Mondays I work all day at Parkland's Psychiatry Outpatient Clinic. Tuesday mornings, I have protected research time followed by resident didactics in the afternoon. Wednesday morning is spent at case conference and in the afternoon, I have my psychodynamic and CBT therapy patients. The rest of the week is spent with protected research time. As with all residents, weekends are completely free! I also spend time as chair of the LGBT inclusive task force developing neuroscience curriculum for medical students and my co-residents, and taking classes through the Center for Translational Medicine's graduate certificate program.
Where I Live
The vibrant LGBT-friendly neighborhood of Oak Lawn is easily one of my favorite perks of UTSW. Only two miles away from the medical district and walking distance to restaurants and nightlife, I waste very little time in traffic. UTSW is also adjacent to several major highways and public transit, striking a great balance of urban and suburban living. I am also only a few blocks from biking trails and a $5 ride to Dallas Love Field Airport.