Rehabilitation and Neuropsychology Fellowship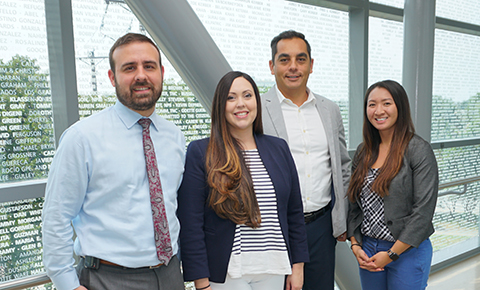 The Department of Physical Medicine and Rehabilitation at UT Southwestern offers a two-year postdoctoral fellowship in Rehabilitation Psychology with major rotations focused on acquired brain injury, spinal cord injury, and medically complex rehabilitation as well as minor rotations focused on concussion, epilepsy, and neuropsychological assessment.
Inpatient rehabilitation services are based at Zale Lipshy Pavilion – William P. Clements Jr. University Hospital and outpatient services are based at the James W. Aston Ambulatory Care Center. Opportunities for research and supervision of psychology interns may also be available.
The fellowship program follows guidelines established by the Baltimore Conference on Rehabilitation Psychology Guidelines for Postdoctoral Education and Training and American Psychological Association (APA) Division of Rehabilitation Psychology Guidelines for Postdoctoral Training in Rehabilitation Psychology. The program is a member of the Council for Rehabilitation Psychology Postdoctoral Training Programs (CRPPTP) and fulfills eligibility requirements for board certification in Rehabilitation Psychology through the American Board of Professional Psychology and may also fulfill requirements for board certification in Clinical Neuropsychology. The UTSW Department of PM&R is part of the Peter O'Donnell Jr. Brain Institute and the North Texas Traumatic Brain Injury Model System (NTTBIMS).
Clinical Rotations
---
Acquired Brain Injury
Rotation Supervisor: Marlene Vega, Psy.D.
The acquired brain injury service at Zale Lipshy Pavilion – William P. Clements Jr. University is a 20-bed inpatient rehabilitation unit designed to provide comprehensive rehabilitation services for individuals with acquired neurological impairment. The modal diagnosis on the acquired brain injury (ABI) service is cerebrovascular accident, though we also treat a wide range of additional disease processes, including traumatic brain injury, anoxia/hypoxia, brain tumor, epilepsy, multiple sclerosis, movement disorders. There is also opportunity to work with rarer diagnoses such as paraneoplastic syndromes, encephalitis, and Parkinson plus syndromes.
Fellows are expected to gain advanced clinical interviewing and assessment skills of individuals who are acutely impaired, using multiple sources of information to complete an evaluation (e.g., medical records, treatment providers, family report, imaging records), and re-evaluating the individual as recovery progresses. Working within a team environment is critical to success and development, and fellows will also need to call upon interpersonal skills to maintain relationships across multiple disciplines, understand the often ambiguous role the psychologist fills on the inpatient rehabilitation team, and to be a knowledgeable consumer of written work products of other disciplines.

Spinal Cord Injury
Rotation Supervisor: Willa Vo, Psy.D.
This rotation is focused on evaluation and treatment of adults with acute and chronic non-traumatic spinal cord injuries and rare conditions affecting the spinal cord within an inpatient rehabilitation setting. Psychological care is aimed at facilitating individual and family adjustment to health status and functioning, and addressing psychological issues that may affect rehabilitation progress. These may include substance abuse or dependence, grief and loss, psychiatric disorders, mental status changes, concomitant head injury, or co-occurring chronic pain. Additionally, assessment may be focused on establishing cognitive functioning status through brief mental status exams or neuropsychological evaluations to inform treatment and discharge recommendations. Fellows will function as a part of a cross-disciplinary team, aid the team in discharge planning and will actively participate in team meetings. Opportunities to work with traumatic spinal cord injury patients continue to increase. The spinal cord injury service shares 20 beds with the medically complex service at the Zale Lipshy Pavilion – William P. Clements Jr. University.

Complex Medical
Rotation Supervisor: Willa Vo, Psy.D.
This rotation offers a unique opportunity to obtain specialized training in psychological service delivery to adult patients with a variety of complex medical conditions requiring inpatient rehabilitation. The primary populations on this unit are patients with complications after solid organ transplant (i.e., lung, liver, kidney and heart), autoimmune disorders, oncology, multiple sclerosis, and other types of acute and chronic medical conditions affecting functioning. Psychological services include delirium management, facilitation of individual and family adjustment to health status, brief neuropsychological evaluations, end of life issues, and other brief psychological interventions aimed at optimizing patient's rehabilitation progress and transition to community. The medically complex rehabilitation service shares 20 beds with the spinal cord injury service at Zale Lipshy Pavilion – William P. Clements Jr. University.

Epilepsy
Rotation Supervisor: Jason Smith, Ph.D., ABPP
The National Association of Epilepsy Centers has designated UT Southwestern a Level 4 Epilepsy Center, the highest level a center can earn. This combined inpatient and outpatient clinical rotation takes place at the Zale Lipshy Pavilion – William P. Clements Jr. University Hospital Epilepsy Monitoring Unit (EMU) and the Aston PM&R Clinic. The rotation involves pre- and postsurgical neuropsychological assessment and psychological interventions for patients with epilepsy. Interdisciplinary treatments are aimed at promoting functional and social independence through integration into work, studies, volunteering, and other productive activities. Coordinated treatments include vocational therapies and other rehabilitation disciplines, such as physical, occupational and speech/cognitive therapies. Individual and group psychological interventions are provided as needed.

PM&R Psychology and Neuropsychology
Clinic
Primary Rotation Supervisor(s): Nyaz Didehbani, PhD; Kristen Wilmoth, PhD
This minor rotation is designed to provide fellows experience with comprehensive neuropsychological evaluation of adults with a broad range of disorders. Common diagnoses include stroke, traumatic brain injury, post-concussion syndrome, functional neurological symptom disorder and epilepsy. There is also opportunity to collaborate with brain injury specialist physiatrists and interdisciplinary team as part of the Concussion and Traumatic Brain Injury Clinic, and COVID Recover Program. This rotation takes place at the James W. Aston Ambulatory Care Center on main campus in Dallas and at UT Southwestern Frisco.
Education and Didactics
---
Departmental didactics are weekly, focusing on the core competencies on rehabilitation psychology clinical neuropsychology. As a large university, grand rounds are also regularly presented from O'Donnell Brain Institute Training Programs, including the Departments of Physical Medicine and Rehabilitation, Neuroscience, Neurological Surgery, Neurology and Neurotherapeutics, and Psychiatry.
Research
---
Multiple research opportunities exist for fellows to participate in the new or ongoing research studies. Fellows will be expected to complete one independent research project under faculty mentorship and guidance, with consideration of the fellow's interest and professional goals. The UTSW system also offers institutionally lectures to promote professional skills related to research, open to fellows.
Salary and Benefits
---
Salary is competitive, currently exceeding NIH based salaries. Fellows receive all benefits of a UTSW employee, including medical insurance, retirement, and other fringe benefits (e.g., flex spending account, basic life insurance).
How to Apply
---
The following documents must be submitted via email to: Fibi.babu@utsouthwestern.edu
Subject line should read "Postdoc Application: (insert applicant first & last name)"
Curriculum vitae
Statement of interest outlining professional interests and goals

Statement of clinical experience in rehabilitation and neuropsychology and related career goals
Statement of research experience, including rehabilitation and/or neuropsychological research interests

Scanned copy of your official graduate school transcripts

Final official transcripts with conferred degree must be received prior to starting postdoc

Three letters of reference

At least one of these must be from an internship supervisor or Director of Training. Letters must be sent directly from the writer. Letters sent via email will be accepted.

Two de-identified sample reports

Applicants must meet minimum selection requirements:

Completion of an APA accredited doctoral program in clinical or counseling psychology by start of the fellowship program
Completion of an APA or CPA accredited internship in psychology
Preference will be given to applicants with demonstrated interest in rehabilitation psychology and neuropsychology through prior experience in the provision of psychological services to populations relevant to this specialty area, professional presentations, publications, participation in national professional organizations or research productivity.
The program does NOT currently participate in the Association of Postdoctoral Programs in Clinical Neuropsychology (APPCN) Resident Matching Program and is NOT currently accredited by the APA.
UT Southwestern Non-Discrimination Policy
---
UT Southwestern Medical Center is committed to an educational and working environment that provides equal opportunity to all members of the University community. In accordance with federal and state law, the University prohibits unlawful discrimination, including harassment, on the basis of: race; color; religion; national origin; sex, including sexual harassment; age; disability; genetic information; citizenship status; and protected veteran status.