Pediatric Endocrinology Fellows
Third-Year Fellow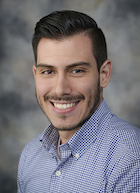 Juan Diego Mejia-Otero, M.D.
Education
B.S. and M.D., Libre University, Cali, Colombia, 2004–2010
Postdoctoral Training
Miami Children's Hospital, Miami, Pediatric Residency, 2013–2016
Research Project
Use of an Internet-based Cognitive Behavioral Therapy Intervention (CATCH-IT) for the Treatment of Depressive Symptoms in Adolescents with Type 1 Diabetes Mellitus
First-Year Fellow

Albara Marwa, M.B.B.S., M.P.H.
Education
M.B.B.S., King Saud University, Riyadha College of Medicine, Saudia Arabia, 2013
M.P.H., SUNY Downstate Medical Center School of Public Health, Brooklyn, NY, 2018
Postdoctoral Training
SUNY Downstate College of Medicine, Brooklyn, NY, Pediatric Residency, 2015–2018