Researchers Jeff SoRelle, M.D., & Jason Park, M.D., Ph.D., published in JAMA Network Open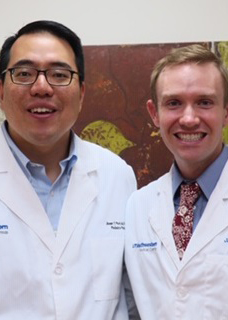 A team of researchers at UT Southwestern Medical Center including Jeff SoRelle, M.D., and Jason Park, M.D., Ph.D., from the Department of Pathology have reported the "Assessment of Interlaboratory Variation in the Interpretation of Genomic Test Results in Patients With Epilepsy​" in the journal JAMA Network Open (SoRelle JA, Pascual JM, Gotway G, Park JY. JAMA Netw Open). The study, published on April 29, identified the frequency of discrepant interpretations for the same genetic test result. Reviewing all reported genetic variants in a public database (ClinVar), 3.2% of epilepsy variants were found to have a discrepancy that might impact clinical management.
This study finds these discrepancies are increasing in parallel with rising genetic testing rates. The authors recommend second opinion referrals to expert genetics-trained physicians when there is a critical management decision under consideration (e.g., medications, surgery). Second opinion interpretations are common in radiology and surgical pathology, and now have an emerging role in genomic medicine.
Other authors of the study include Dr. Juan Pascual, Professor of Neurology & Neurotherapeutics and Pediatrics; and Dr. Garrett Gotway, Assistant Professor of Pediatrics and Internal Medicine with the Eugene McDermott Center for Human Growth and Development