A number of UT Southwestern Pathology faculty have released new publications, and have accomplished incredible achievements! Please join us in congratulating them for their accomplishments!
UTSW Paper Chosen for European Association of Cancer Research's Top 10 Cancer Research Publications
Title: DNA Sensing in Mismatch Repair-Deficient Tumor Cells Is Essential for Anti-tumor Immunity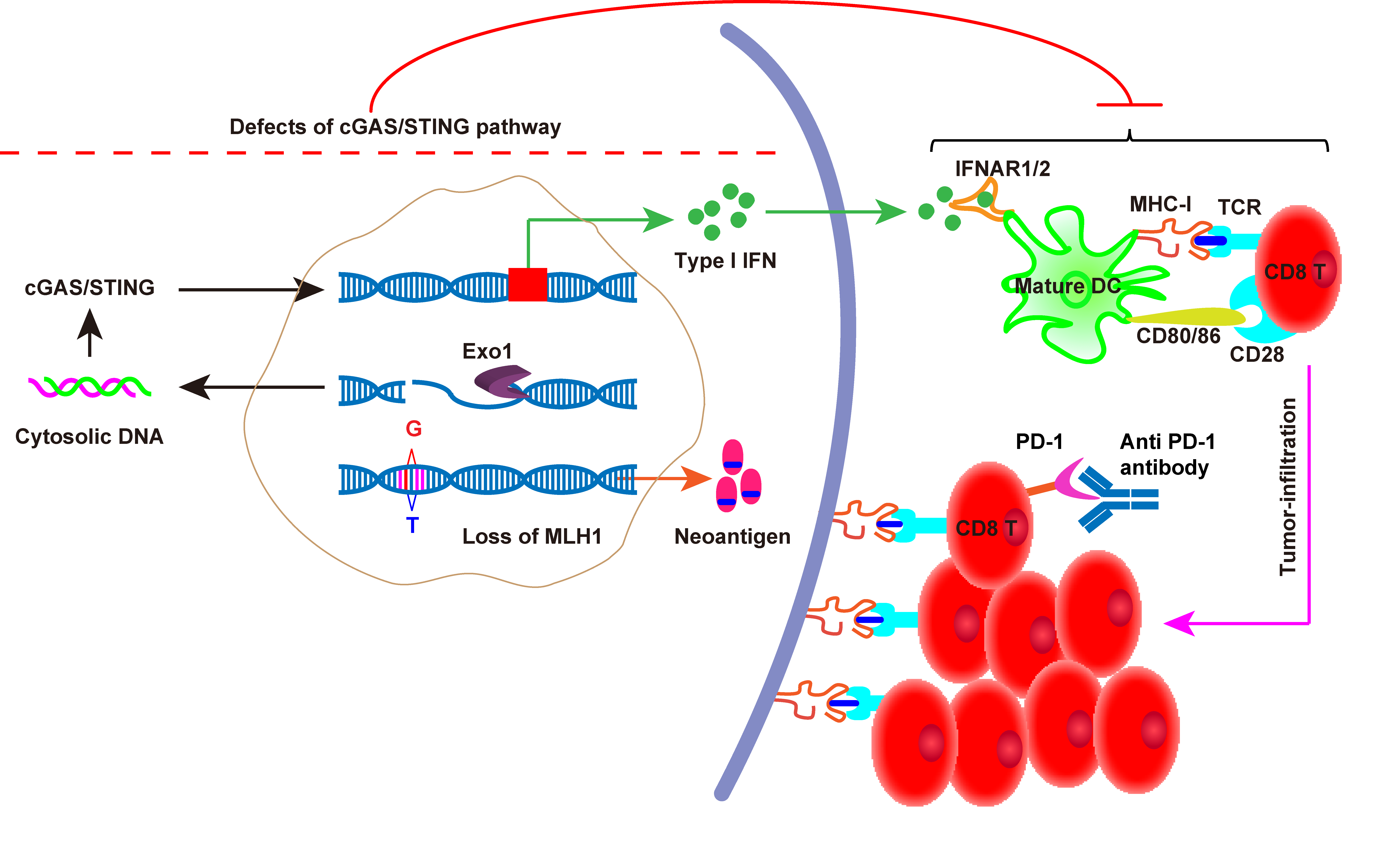 PATH Faculty involved: Yang-Xin Fu, M.D., Ph.D.; Mingyi Chen, M.D., Ph.D.; Diego Castrillon, M.D., Ph.D.; Jian Qiao, M.D., Ph.D.
Journal: Cancer Cell
The great success of anti-PD-1 therapy against tumors defective in DNA mismatch repair (dMMR) highlights the role of tumor mutational burden (TMB) as a predictive biomarker in onco-immunotherapy. However, primary resistance exists in about 50% of dMMR tumor patients. Consistently, half of dMMR tumors with TMB-High have low level of T-cell infiltration. The mechanism concerning the neoantigen-independent immune profile in dMMR tumors is largely unknown. Given that innate sensing-mediated costimulatory signal is required for T-cell-dependent immune checkpoint blockade, we hypothesize that dMMR may trigger certain DNA sensing to benefit the aforementioned clinical outcome. By screening the DNA sensing pathways correlative to dMMR patients' prognosis, we found that patients with lower cGAS/STING expression in their tumor tissues were more likely to survive their cancers shorter than those with higher expression. We confirmed this in dMMR mouse models. We show that depleting the cGAS-STING pathway in tumor cells defective in MMR factor MLH1 (dMLH1) badly impairs tumor-infiltration of T cells. Our mechanistical studies reveal that dMLH1, which is seen in about half of dMMR tumors, induces aberrantly hyperactive DNA excision by exonuclease 1 (Exo1), prompting the severely damaged DNA to release to the cytoplasm. This activates the cGAS-STING pathway and stimulates IFN production, leading to T-cell proliferation and tumor infiltration. Radiation further stimulates the immune signaling response. Correspondingly, dMLH1 cancer patients who resist anti-PD-1 therapy express low levels of cGAS/STING. These studies refine our understanding of the mechanisms underlying immunotherapy sensitivity and identify new biomarkers for predicting efficacy in dMMR patients.
The findings in our study suggest that TMB-mediated neo-antigens in dMMR tumors is not enough for effective immunotherapy. The newly identified biomarkers of the factors involved in the cGAS-STING pathway could steer how dMMR tumors are treated in the future. Thus, evaluating the status of tumors' cGAS-STING pathway factors could decide whether patients will benefit from immunotherapy. Additionally, since radiation stimulates the cGAS-STING immune signaling in dMLH1 tumor cells, delivering radiation before immunotherapy could further enhance the effectiveness of these therapies in dMMR patients.
Favorable Phase II Trial Results for RCC and IVC-TT
Title: Neoadjuvant SAbR for Renal Cell Carcinoma Inferior Vena Cava Tumor Thrombus – Safety Lead-in Results of a Phase II Trial
PATH Faculty involved: Payal Kapur, M.D.
Journal: International Journal of Radiation Oncology*Biology*Physics
Purpose:
To evaluate the feasibility, safety, oncological outcomes and immune effect of neoadjuvant stereotactic radiation (Neo-SAbR) followed by radical nephrectomy and thrombectomy (RN-IVCT).
Methods and Materials:
These are results from the safety lead-in portion of a single arm phase I-II trial. Patients with kidney cancer (RCC) and IVC tumor thrombus (IVC-TT) underwent Neo-SAbR (40 Gy in 5 fractions) of the IVC-TT followed by open RN-IVCT. Absence of grade 4-5 adverse events (AEs) within 90 days of RN-IVCT was the primary endpoint. Exploratory studies included pathological and immunological alterations attributable to SAbR.
Results:
6 patients were included in the final analysis. No grade 4-5 AEs were observed. A total of 81 AEs were reported within 90 days of surgery: 73% (59/81) were grade 1, 23% (19/81) were grade 2, and 4%(3/81) were grade 3. After a median follow-up of 24 months, all patients are alive. One patient developed de novo metastatic disease. Of the 3 patients with metastasis at diagnosis, 1 had a complete and another partial abscopal response without the concurrent use of systemic therapy. Neo-SAbR led to decreased Ki-67 and increased PD-L1 expression in the IVC-TT. Inflammatory cytokines and autoantibody titers reflecting better host immune status were observed in patients with non-progressive disease.
Conclusions:
Neo-SAbR followed by RN-IVCT for RCC IVC-TT is feasible and safe. Favorable host immune environment may predict SAbR's abscopal response and RCC relapse-free survival although direct causal relation to SAbR is yet to be established.
Mani Receives New DOD Award for Breast Cancer Research
PATH Faculty involved: Ram Mani, Ph.D.
Although known for his work in prostate cancer, Dr. Ram Mani has been awarded a new Department of Defense (DOD) grant, this time focusing his attention on another hormone-driven cancer. His research entitled "Targeting Treatment Resistance in Patients With Metastatic ER-Positive Breast Cancer" will receive almost $2.4M in funding for the next three years.
As nearly all patients with ER-positive metastatic breast cancer eventually develop resistance to both endocrine therapies and CDK4/6 inhibitors, treatment options for such women are extremely limited. Through this work, Drs. Mani and Prasanna Alluri, his co-investigator, plan to elucidate the mechanisms by which patients with breast cancer develop resistance to common targeted therapies and develop a new therapeutic strategy to overcome such resistance through BET inhibition. They propose to test the hypothesis that pharmacologic bromodomain and extraterminal domain (BET) inhibition, by blocking the addiction of treatment refractory estrogen receptor (ER)–positive breast tumors to bromodomain containing 4 (BRD4)–mediated reprogramming of transcriptional and DNA repair pathways, overcomes resistance to both endocrine therapies and cyclin-dependent kinase 4/6 (CDK4/6) inhibitors. The project's 2 specific aims are (1) to define the mechanisms by which BRD4 mediates reprogramming of transcriptional and DNA repair pathways in ER-positive breast cancer to confer resistance to endocrine therapies and CDK4/6 inhibitors and (2) to test if pharmacological BET inhibition overcomes resistance to both endocrine therapies and CDK4/6 inhibitors in in vivo xenograft models of breast cancer.