Department faculty co-authors on landmark NEJM publication comparing medical vs. surgical treatment for refractory heartburn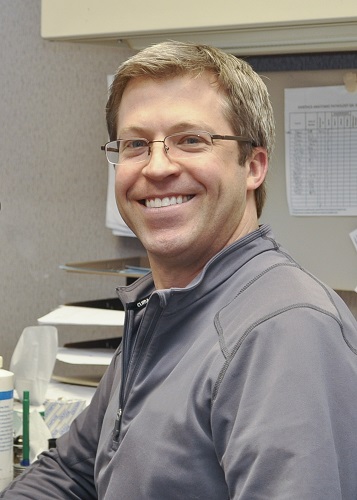 Randomized Trial of Medical versus Surgical Treatment for Refractory Heartburn
N Engl J Med. 2019 Oct 17;381(16):1513-1523. PMID: 31618539
In the United States, annual costs for managing gastroesophageal reflux disease (GERD) exceed $12 billion. Proton-pump inhibitors (PPIs) are highly effective for healing reflux esophagitis. However, just over half of patients taking prescription PPIs for chronic heartburn report complete satisfaction with this treatment, and "PPI-refractory GERD" is the most common reason for GERD-related referrals to gastroenterologists.
Patients who were referred to Veterans Affairs gastroenterology clinics across the U.S. with heartburn unresponsive to a PPI had comprehensive evaluation for eligibility for a trial comparing Nissen fundoplication surgery with medical therapy for symptomatic heartburn relief. Eligible patients received a 2-week trial of omeprazole twice a day. Those without substantive improvement underwent endoscopy with esophageal biopsy, esophageal manometry, and MII-pH monitoring to rule out functional or other histologic causes of heartburn.
Drs. Melton and Genta are both fellowship-trained GI pathologists, specializing in disorders of the esophagus and stomach. They examined all biopsy sets taken during these screening endoscopies, specifically searching for histologic findings associated with heartburn, to determine patient eligibility. Patients with severe reflux esophagitis, non-GERD endoscopic abnormalities, eosinophilic esophagitis, achalasia, or absent contractility were excluded.
Patients found to have reflux-related heartburn were randomly assigned to receive surgery, active omeprazole plus baclofen, with desipramine added depending on symptoms, or control treatment (omeprazole plus placebo). Nissen fundoplication surgery was more effective than medical treatment in controlling reflux symptoms. Also noteworthy were two important findings not related to the study endpoint. Out of 366 subjects enrolled who were thought to have "PPI-refractory" heartburn, 12% reported symptom relief with PPI dose optimization, and a full third of patients were excluded because their symptoms were not related to GERD. This trial provides the first head-to-head analysis of surgery vs. medical therapy for relief of PPI-refractory heartburn. Importantly, this trial also highlights the critical importance of systematic evaluation for managing the care of patients with PPI-refractory heartburn, because GERD is often not the cause.