2017 Service Award Recipients
Congratulations to the Pathology Department's 2017 Service Award Recipients. This award is presented to UT Southwestern team members whose years of dedicated service have reached significant milestones, e.g., five, 10, 15 years. This year's recipients were recognized on May 8, 2017, during a luncheon hosted by our department Chairman Dr. James Malter.
Thank you for all of the years of skill, hard work, and dedication you have given to help make UT Southwestern a world-class provider of patient care, research, and education.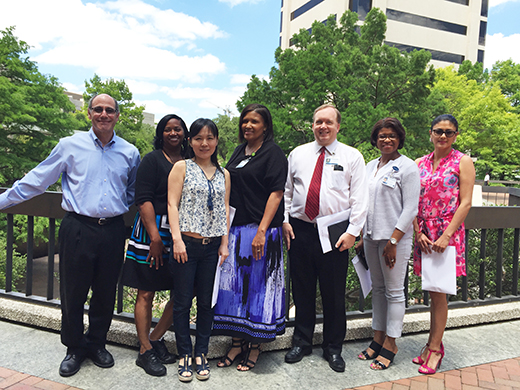 Attendees (from left):
Dr. James Malter (Chairman, Department of Pathology)
Wanda LeBlanc (Credentialing and Medical Staff Coordinator)
Jie Hu (Research Scientist)
Annette Wallace (Reimbursement Specialist)
Darren Slider (Manager Billing Operations)
Sarita Rushing (Program Coordinator)
Ana Reyes (Billing Specialist)
Not present:
Xiangyi Li (Research Associate)
Yolanda Washington (Laboratory Technical Assistant)