Dr. Drobysheva receives visiting scholar award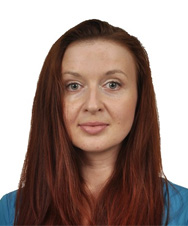 Anastasia Drobysheva, MD., third-year AP/CP resident, received the 2017 Visiting Scholar Award in Pediatric Pathology at Boston Children's Hospital. The award is given annually to one resident, fellow, or practicing pediatric pathologist. She will focus on studying pediatric tumors and congenital cardiac pathology.
Dr. Drobysheva obtained her medical degree at Omsk State Medical Academy in Russia. She received postgraduate training in Biological Chemistry from the University of Cambridge, U.K., and the M.Sc. degree in Cellular and Molecular Medicine from the University of Ottawa, Canada. At UTSW, she studied mitogen-activated protein kinase pathway activation and response to targeted therapy in pediatric disseminated pilocytic astrocytomas, as well as the clinical spectrum of pediatric soft tissue lesions presenting as orbital masses. She has presented results of these studies at the Society of Pediatric Pathology annual meetings.
Congratulations!