College of American Pathologists (CAP) Honors Dr. Charles Timmons as Educator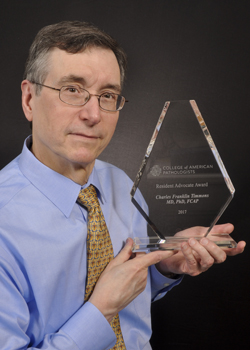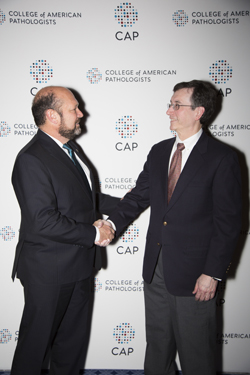 Dr. Charles Timmons, Professor of Pathology and Director of Pathology's Resident and Fellow Education, recently received a national education recognition from the College of American Pathologists (CAP), the world's largest association of board-certified pathologists.
Dr. Timmons received the Resident Advocate Award from CAP for his contribution to pathologists' education during the organization's annual meeting Oct. 7-11 in Oxon Hill, Maryland. For over 15 years, Dr. Timmons has led UT Southwestern Pathology's resident education program, where "he advocates for pathology residents to help improve training and fully develop their careers while taking significant interest in the experience of each one of his residents, allowing him to provide advice for continuous improvement," according to the CAP.
CAP serves patients, pathologists, and the public by fostering and advocating excellence in the practice of pathology and laboratory medicine worldwide. Because pathology marks the intersection of science and medicine, continuing medical education is a central mission of the 18,000-member college.