Ravi Sarode, M.D., recognized for developing thrombophilia testing guidelines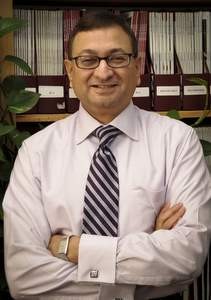 Ravi Sarode M.D., Professor and Chief of Pathology and Medical Director of UT Southwestern Clinical Laboratory Services, Director of Transfusion Medicine and Hemostasis Division, and holder of the John H. Childers, M.D., Professorship in Pathology, is one of three Champions (clinicians who are working to address overuse of tests and treatments) selected for the Choosing Wisely Campaign during the American Society of Hematology's 58th annual meeting. This recognition was also acknowledged by the American Board of Internal Medicine (ABIM), which created the campaign five years ago.
Dr. Sarode and his colleagues discovered that approximately 85 percent of thrombophilia tests at UT Southwestern's two teaching hospitals were ordered incorrectly or incompletely. These tests are frequently ordered (usually by non-hematologists) for patients with acute thrombotic events, often while the patient is on anticoagulation therapy, which may cause false positive results. These abnormal results are not always checked for reproducibility or accuracy, leading to inappropriate, long-term anticoagulation therapy.
To promote appropriate use of testing, Dr. Sarode's team developed and implemented ordering guidelines in the electronic medical records via a series of cascading questions that providers must answer before ordering tests.
After implementation of the intervention and an associated education campaign, UT Southwestern has reduced thrombophilia testing for inpatients in the University Hospital by more than 90 percent.