Dr. Dennis Burns Receives the Minnie Stevens Piper Foundation's Piper Professor Award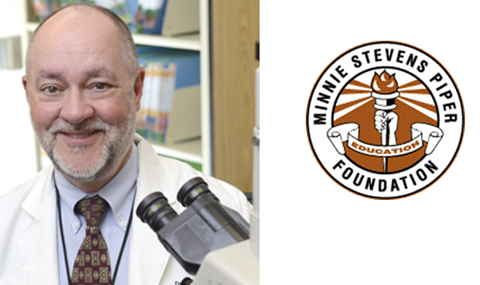 Dr. Dennis Burns, Professor of Pathology, who holds the Jane B. and Edwin P. Jenevein Chair in Pathology, has received the most prestigious honor of his career, the Minnie Stevens Piper Foundation's Piper Professor Award, which is awarded annually to 10 outstanding educators from Texas universities. Each university is allowed one nomination per year for the award.
Dr. Burns says he remembers when he was bitten by the "teaching bug." During his first year of fellowship training at UTSW in 1983, he was asked to fill a sudden vacancy and serve as interim course director for a sophomore pathology course. He accepted the challenge, and at the conclusion of the academic year, he was selected by his students for an outstanding faculty award.
This experience launched his academic medical career. Since his first faculty award in 1983, he has received more than 40 teaching honors, including 27 Outstanding Faculty awards.
"At a very basic level, I can simply say that I teach because I love it," Dr. Burns said. "The opportunity to share knowledge and, more importantly, to inspire others to actively engage in the learning process, has been a source of enormous gratification to me throughout my career. As a medical professional in a teaching environment, I have been entrusted with a very special privilege – to do my utmost to ensure that those I teach become the most effective caregivers and future educators that they can be."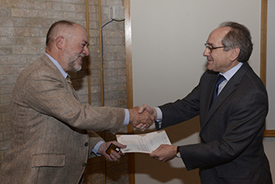 To provide UT Southwestern medical students with the best possible preparation for the changing landscape in health care delivery, President Daniel K. Podolsky set curriculum reform as one of his strategic priorities for UT Southwestern in 2009, when he announced his vision and agenda during his first year as President. A few years later, when the Medical School was ready to take on the first major curriculum reorganization in its history, Dr. Burns was named co-chair of the Medical School Planning Committee for Curriculum Reform, and he was a major leader of the multi-year effort that resulted in the new Foundation for Excellence Curriculum that was launched last summer when the Class of 2019 began Medical School.
"Dr. Burns is widely regarded as an exceptional educator, and we are greatly indebted for his role in the reshaping of our Medical School curriculum," President Podolsky said. "The new curriculum utilizes innovative teaching strategies in an integrated approach to the basic science and clinical components of medical education that should excite and inspire the next generation of physicians."
Dr. Gregory Fitz, Executive Vice President for Academic Affairs, Provost, and Dean of the Medical School, who sponsored and oversaw the curriculum reform initiative, also praised Dr. Burns for his leadership role in developing and implementing the new curriculum. "The Foundation for Excellence Curriculum will enable us to prepare our students to keep pace with rapid changes in medicine and clinical practice and develop the knowledge, compassion, and leadership to serve as examples of excellence both to peers and patients alike."
Many of Dr. Burns' colleagues and students wrote letters of support for his nomination. Reoccurring themes in the letters include mentions of Dr. Burns' passion, commitment and devotion to his students. Dr. Angela Mihalic, Associate Dean for Student Affairs, described Dr. Burns as the most beloved and celebrated teacher on campus. Dr. Mihalic also noted that she was a pathology and neuroscience student of Dr. Burns' during her time as a medical student in the early '90s.
"I was deeply honored, thrilled, and humbled to receive this award," Dr. Burns said. "Teaching has been a big part of my life for a long time. It's amazing to know that there are people who think well enough of me to nominate me for something as wonderful as this award. During my career, I've had a chance to interact with incredible teachers – some who are previous recipients of this award. Sharing this stage with those folks gives me goosebumps when I think about it. I never thought that anything like this would happen."
Dr. Burns was born in Cleveland and grew up in Lima, Ohio. He earned a bachelor's degree with honors in chemistry from Baylor University and received his medical degree from UT Southwestern Medical School. He has authored or co-authored 127 articles in peer-reviewed journals, 11 textbook chapters, and a pathology textbook. In his spare time, he loves fly-fishing and reading about United States history.
About the Minnie Stevens Piper Foundation
Randall Gordon Piper and Minnie Stevens Piper created the foundation in 1950 and in 1951, beginning a loan program that allowed economically disadvantaged students in Texas to attend college. After the Pipers' deaths in 1955, their foundation initiated the Piper Scholars Program for undergraduates, the Pipers Fellows Program for graduate students, and the Piper Professors program to recognize inspiring educators.
Previous Piper Professors still on the faculty at UT Southwestern are Dr. James Richardson (2008), Professor of Pathology, Molecular Biology, and Plastic Surgery; Dr. Eugene Jones (2009), Chairman of Physician Assistant Studies; Dr. Ellen Vitetta (2011), Professor of Immunology and Microbiology; Dr. Jerry Shay (2013), Professor of Cell Biology; and Dr. Joel Goodman (2014), Professor of Pharmacology.