Dr. Dennis K. Burns receives 2016 Regents Outstanding Teaching Award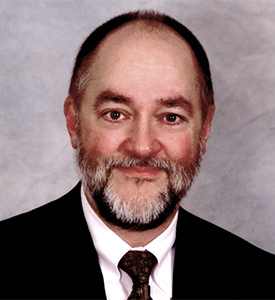 The UT System Board of Regents has honored Dennis K. Burns, M.D., and five additional UT Southwestern Medical Center faculty members, among the 60 UT System educators who received 2016 Regents' Outstanding Teaching Awards (ROTA) that were presented on August 24, 2016, at an awards ceremony in Austin.
Offered annually in recognition of faculty members at the University of Texas System's eight academic and six health institutions who have demonstrated extraordinary classroom performance and innovation in undergraduate instruction, the Regents' Outstanding Teaching Awards are the Board of Regents' highest honor. With a monetary award of $25,000, the Regents' Outstanding Teaching Awards are among the largest in the nation for rewarding outstanding faculty performance. Given the depth and breadth of talent across the UT System, the awards program is likewise one of the nation's most competitive.
Faculty members undergo a series of rigorous evaluations by students, peer faculty and external reviewers. The review panels consider a range of activities and criteria in their evaluations of a candidate's teaching performance, including classroom expertise, curricula quality, innovative course development, and student learning outcomes.
"UT Southwestern and the students educated here are fortunate to have these outstanding teachers as members of our faculty," said Dr. Daniel K. Podolsky, President of the Medical Center. "Their effectiveness in this core mission of our institution is essential, and we are delighted to see their dedication and skills recognized. We also are enormously proud that with these newest colleagues honored, fully 41 members of our faculty have now received these awards in the five years since the program was extended to include the UT Health-related institutions."
Dr. Burn's said of his teaching philosophy "An effective teacher prepares diligently, treats learners with respect, shares knowledge with enthusiasm, and remembers his or her own struggles and limitations. Teaching has always been a source of deep satisfaction and inspiration. It is a privilege to be able to share knowledge and, perhaps more importantly, to inspire others to actively engage in the learning process. The benefits of teaching are reciprocal in that teaching, more than any other activity, inspires me to remain a life-long learner."
Dr. Burns has received numerous other honors during his career at UT Southwestern. He holds the Jane B. and Edwin P. Jenevein, M.D., Chair in Pathology. He's been awarded multiple teaching awards from first- and second-year medical students as well as pathology residents. He recently was named a Minnie Stevens Piper Foundation Professor, and has served multiple times as an Academic Marshal during medical school graduations. In 2016, he had the honor of speaking at the Medical School hooding ceremony.
Dr. Burns is also an avid fly fisherman and a bibliophile – particularly old works on fly fishing and medicine – as well as a history buff with a special interest in U.S. military history, the history of medicine, and the role that medical matters have played in shaping history.