Dr. David Miller and Dr. Wenxin Zheng keynote speakers at cancer conference in China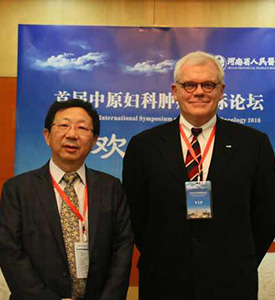 UT Southwestern Professors David Miller, M.D., and Wenxin Zheng, M.D., were the keynote speakers at the Chinese National Conference on Endometrial Cancer, May 6-8, 2016, in Zhengzhou, the provincial capital of Henan, China. There were more than 600 attendees from all over the country. Professors Miller and Zheng were the only American speakers to attend. There were also about 10 additional Chinese experts in the field of gynecologic oncology and gynecologic pathology who spoke at the conference.
The meeting was well received with the Chinese partners expressing strong interest in collaborating with UT Southwestern in the near future.
Dr. Zheng's two-hour talk covered the following topics:
1)
Endometrial serous carcinogenesis including both human and mouse models
2)
Lynch syndrome associated endometrial cancer and suggestions for how to develop an effective screening system in China
3)
Molecular mechanisms of progestin resistance and clinical impact
4)
How to provide effective frozen section diagnosis (intra-operative consultation) to clinicians and emphasize the importance of interactions between gynecologists (gynecological oncologists) and pathologists.