Smith wins first place at OMOT Art Show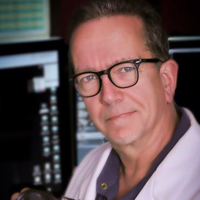 Congratulations to Mark Smith for his dual first place wins in the 2015 UT Southwestern On My Own Time (OMOT) art show. Mark won first place in the professional category in both the "Enhanced photography and/or Computer Art" and "Black and White Photography" divisions.
Mark joined the Pathology staff in 2003 as a Graphics Designer and Photographer. Prior to coming to UT Southwestern, he worked for Atlantic Richfield Co., Raytheon, and as Command Photographer and Illustrator for the Naval Regional Medical Center at NAS Memphis. After military service, he returned to college receiving his degree in Arts and Science. While in college, he studied design under the instruction of renowned Texas artist, David Bates.
Since coming to UT Southwestern, he has won 1st place nine times in the OMOT (On My Own Time) art show in the Enhanced Photography/Computer Art division representing UT Southwestern. He's also won and has been recognized at other juried art competitions sponsored by the Dallas Morning News and the White Rock Lake Conservancy. He's published four photographic books, including a photo-documentary book entitled "Unto the Least", documenting the work of Jimmy Dorrell and his work with the homeless at "Church Under the Bridge" in Waco, Texas. If interested in viewing more of Mark's photography, please visit his website at: www.mwsphotostories.com
Mark recently celebrated his 40th anniversary with his wife, Suzann. They have two grown children – Gabriel, who lives in Portland, Oregon, and Savannah, who lives in Las Vegas, Nevada.
The following photographs are his most recent winning entries in this year's OMOT show:
"Highway 77 – Last Stop for Gas" (Enhanced Photography-Professional)

"Jerry" (Enhanced Photography-Professional)