Dr. Friedberg's biography of Arthur Kornberg slated for publication
Emeritus Professor Errol Friedberg recently completed a book on the life of the late Arthur Kornberg, M.D., the biochemist who discovered the enzyme DNA polymerase and made seminal contributions to our understanding of DNA replication.
"Arthur Kornberg, Emperor of Enzymes," will be published by World Scientific Publishers and is scheduled for release in 2016. Dr. Friedberg has written several books on the history and techniques of biomedical science, including a history of UT Southwestern and a biography of Nobel Laureate Sydney Brenner.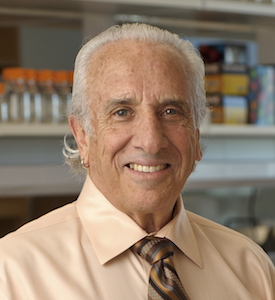 Dr. Freidberg's new book traces Dr. Kornberg's career, starting from his stint as a physician in the US Navy during WW II, when his frequent clashes with his ship's captain over medical issues led to his reassignment to the NIH. Dr. Kornberg subsequently pursued postdoctoral training in the laboratories of the noted biochemists Severo Ochoa and Carl Cori.
At age 35, Dr. Kornberg accepted the chairmanship of the Department of Microbiology at Washington University in St. Louis, Missouri. In 1953, he became chairman of the Department of Biochemistry at Stanford University.
In 1959 Dr. Kornberg received the Nobel Prize in Medicine or Physiology together with his former mentor, Dr. Ochoa.
Friedberg says to the residents: "Buy a copy. You'll enjoy it – and learn a lot!" He plans next to write a biography of Roger Kornberg, Ph.D., who like his father is a professor at Stanford and won a Nobel Prize.