Arthur G. Weinberg Resident Research Award given to Linlin Wang, M.D., Ph.D.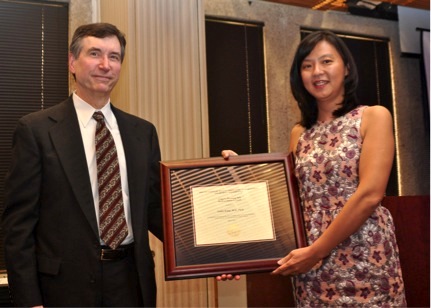 The Arthur G. Weinberg Resident Research Award was created to promote scientific research by residents in the Department of Pathology. The recipient has conducted an original research project or generated significant new information from observations of a single case during his/her pathology training at UT Southwestern.
A selection committee of faculty members judges the manuscripts and bases its decision on scientific merit and clarity of presentation, including its judgment as to the potential significance of the paper to pathology literature.
Linlin Wang, M.D., Ph.D., earned this year's award for her manuscript, "Acute megakaryoblastic leukemia associated with Trisomy 21 demonstrates a distinct immunophenotype."
Linlin received $500 and a small plaque. Her name is engraved on a larger permanent plaque that hangs in the Chair's Office. Congratulations on a job well done.