Errol Friedberg publishes biography of Paul Berg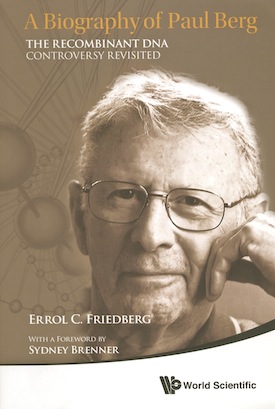 Errol Friedberg, M.D., Emeritus Professor and former Chair of the Department of Pathology, recently published "A Biography of Paul Berg: The Recombinant DNA Controversy Revisited" (World Scientific Publishing), a biography of the noted molecular biologist and Nobel Laureate Paul Berg.
Dr. Berg, now Emeritus Professor of Biochemistry at Stanford University, has made a number of seminal contributions to our understanding of various aspects of nucleic acid biochemistry, including the independent discovery of transfer RNA. However, he is most noted for establishing recombinant DNA technology, a technology that involves the covalent joining of two different types of DNA and that led directly to the new and exciting era of gene cloning. However, many people feared cloning.
In 1975, Dr. Berg spearheaded a landmark conference at Asilomar, California. During four hectic days and nights, hundreds of molecular biologists examined and debated the relative pros and cons of recombinant DNA technology.
The fact that a body of concerned and reputable scientists had taken the lead in considering possible dangers inherent in the use of recombinant DNA did much to forestall governmental regulation of the technology.
This is Friedberg's second biography of a notable scientist: in 2005 he published Sydney Brenner: A Biography (Cold Spring Harbor Laboratory Press). He is currently documenting the life of the late Arthur Kornberg, Dr. Berg's mentor, who pioneered our understanding of DNA replication.