Reade Quinton, M.D., receives The Lt. Bill Walsh Award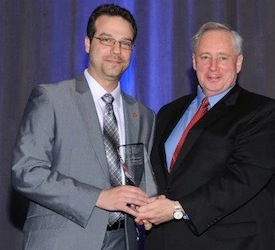 At the annual Appetite for Advocacy Luncheon on April 3, Reade Quinton, M.D., Associate Professor of Pathology, received the Lt. Bill Walsh Award for his commitment and dedication to the field of child abuse prevention, investigation, prosecution, and healing.
The annual luncheon supports the program and mission of the Dallas Children's Advocacy Center (DCAC) and to raise awareness about the issues of child abuse within the Dallas community. The award is named for Lt. Bill Walsh (Ret.), a co-founder of DCAC.
Dr. Quinton has been actively involved in child fatality investigations and previously was team leader for Texas in the Centers for Disease Control's Sudden Infant Death Investigations (SUIDI) initiative. He is the medical examiner representative to both the Dallas County Child Death Review Team and the Texas State Child Fatality Review Team. Dr. Quinton is also a medical examiner at the Southwestern Institute of Forensic Sciences.
Congratulations on a well-deserved award.