Veena Rajaram joins Pathology and Children's Medical Center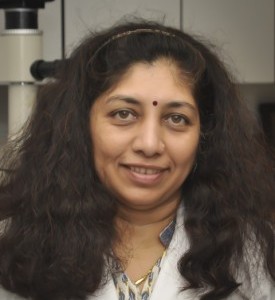 Veena Rajaram, M.D., received her Bachelor of Medicine and Bachelor of Surgery (MBBS) from Berhampur University in Orissa, India. After immigrating to the United States, she joined the Anatomic Pathology Residency Program at Winthrop University Hospital in Mineola, N.Y., and completed her residency in Anatomic Pathology followed by fellowships in surgical pathology, pediatric pathology, and neuropathology at Washington University School of Medicine in St. Louis.
Before coming to UT Southwestern Medical Center, Dr. Rajaram spent eight years as an Assistant Professor at Northwestern University, Feinberg School of Medicine, where she participated in medical student teaching and received the "Outstanding Teaching Award in Problem-based Learning" in 2012.
During this time, Dr. Rajaram was also a staff pathologist at Ann and Robert H. Lurie Children's Hospital (Children's Memorial Hospital) in Chicago with a primary focus on pediatric neuropathology.
Dr. Rajaram's clinical focus is on pediatric neuropathology with a research interest in pediatric brain tumors and CNS developmental malformations. She will be located at Children's Medical Center.