Administrative change announced for Elena Lucas, M.D.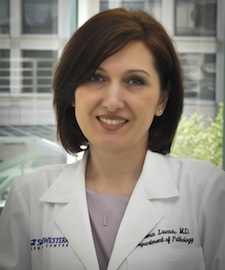 Elena Lucas, M.D., Assistant Professor of Pathology, has accepted the position of Associate Residency Director for Anatomic Pathology. She will replace Payal Kapur, M.D., who is taking the directorship of Surgical Pathology at Parkland Memorial Hospital.
Dr. Lucas graduated with highest distinction from the Stavropol State Medical Academy. After serving several years as a practicing clinical pathologist in Russia, she completed a pathology residency at UT Southwestern in 2010, serving as Chief Resident. She remained at UTSW for a cytopathology fellowship and joined the faculty as an Assistant Professor in 2011. In 2013, residents recognized her excellence in teaching with the Vernie A. Stembridge Teaching Award.
As Associate Residency Director, Dr. Lucas' duties will center on the didactic conference series in Anatomic Pathology and on the structure of the subspecialized AP rotations. She also will mentor residents.