Galindo featured on Ivanhoe.com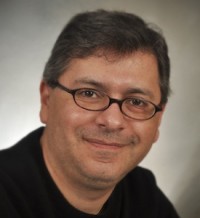 Rene Galindo, M.D., Ph.D., was recently interviewed and featured on Ivanhoe.com, the country's largest news-gathering organization covering medical breakthroughs, family health, and issues important to women. Dr. Galindo, a Cancer Society Research Scholar, and his research team examine the biologic mechanisms responsible for the pathogenesis of the most common and deadly childhood and soft tissue malignancy, rhabdomyosarcoma. See the full profile.
Dr. Galindo is an Assistant Professor of Pathology, Molecular Biology, and Pediatrics, and Associate Dean of Medical Student Research.