Jake Dennis, M.D., receives award at USCAP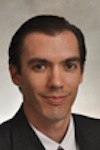 The United States & Canadian Academy of Pathology (USCAP) awarded Jake Dennis, M.D., a PGY-2 resident, the Association of Directors of Anatomic and Surgical Pathology (ADASP) Award for Surgical Pathology at their 2013 annual meeting.
The award of $500 is given by ADASP and USCAP to the best poster by a pathologist-in-training on a morphology-based surgical pathology study. The United States and Canadian Academy of Pathology (USCAP/IAP) is one of the largest professional organizations in the field of Pathology and has a rich 100-year heritage of supporting education, research, and clinical practice.
Dr. Dennis' winning poster, "Evaluation of HER2 IHC-staining using the ventana image analysis system: Correlation with HER2 fish amplification," was created under the mentorship of Venetia Sarode, M.D.
Dr. Dennis grew up in San Antonio where he attended Health Careers High School. He completed a double major in biochemistry and genetics at Texas A&M University and attended medical school at UT Houston. He chose UT Southwestern because of the academic quality of the Pathology Residency Program.