Galindo named Cancer Society Research Scholar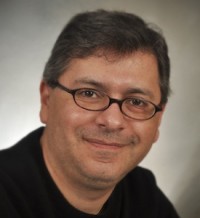 Rene L. Galindo, M.D., Ph.D., has been named a Cancer Society Research Scholar by the American Cancer Society. The lifetime designation recognizes the contributions that Dr. Galindo has made on behalf of cancer research.
Dr. Galindo's study, titled "New pathways underlying rhabdomyosarcoma pathogenesis," examines the biologic mechanisms responsible for the pathogenesis of the most common and deadly childhood soft tissue malignancy, rhabdomyosarcoma. The goals of the project are to exploit complementary animal model systems – unique to Dr. Galindo's lab – for gene discovery, and then to translate these finding to the designs and development of new therapies. The award amounts to $720,000 over four years.
Dr. Galindo is an Assistant Professor of Pathology, Molecular Biology, and Pediatrics, and Associate Dean of Medical Student Research. Congratulations!