Gina Aloisio receives Green Center Trainee Fellowship Award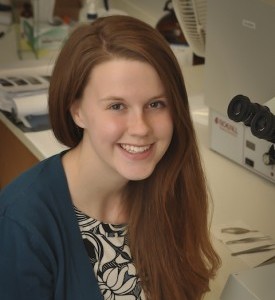 Gina Aloisio, an MSTP student in Dr. Diego Castrillon's lab, has been selected as the recipient of the of the 2012-2013 Green Center Trainee Fellowship. Her research project is on the control and maintenance of spermatogonial stem cells.
Applications were received and evaluated by a committee of five faculty members. Gina will receive $25,000 for tuition and stipend support during the 2012-2013 academic year.
The Cecil H. and Ida Green Center for Reproductive Biology Sciences is an endowed center at UT Southwestern Medical Center directed by Lee Kraus, M.D. The Center's mission is to promote and support cutting-edge, integrative, and collaborative basic research in reproductive biology, with a focus on signaling, gene regulation, and genome function.