Charles L. White III, M.D., elected President of the American Association of Neuropathologists
Charles L. White III, M.D., Professor of Pathology, assumed the office of President of the American Association of Neuropathologists at its 88th annual meeting in Chicago in June 2012.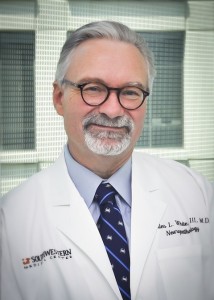 Dr. White had previously served as Assistant Secretary-Treasurer of AANP for four years, with primary responsibility for oversight of its continuing medical education program. He has also been a member of the AANP Executive Council since 2008. White was elected President-Elect in 2011. As president, his duties will include programming and oversight of AANP's 2013 meeting in Charleston, S.C.
The American Association of Neuropathologists is the professional organization for neuropathologists in the United States. The AANP traces its origins to the early 1930s and was incorporated in Pennsylvania in May 1960. The AANP's purpose is to advance the science, teaching, training, and practice of neuropathology, a discipline that focuses on the study of diseases of the nervous system.
Neuropathology is the oldest subspecialty recognized by The American Board of Pathology. Currently, AANP has more than 800 members, including many from Canada, Europe, and Asia.
Dr. White has been a practicing neuropathologist and Director of the Division of Neuropathology at UT Southwestern for 29 years. His clinical and research interests focus on neurodegenerative brain disorders. He holds the Nancy R. McCune Distinguished Chair in Alzheimer's Disease Research, and directs the Winspear Center for Research on the Neuropathology of Alzheimer's Disease. He also is the training director for the Neuropathology Fellowship Program at UT Southwestern.