Weinberg retires after 42 years of service
Arthur Weinberg, M.D., is a humble and thoughtful man of many talents. As a pediatric pathologist of great esteem and talent, he served in many capacities locally, regionally, and nationally. He is past President of the Society for Pediatric Pathology and was Chief of Pediatric Pathology at Children's Medical Center Dallas from 1970 to 2001. He has trained countless medical students, residents, and fellows in pediatric pathology during his career. For many years, he led the Pathology Residency Training Program and pediatric pathology fellowship programs.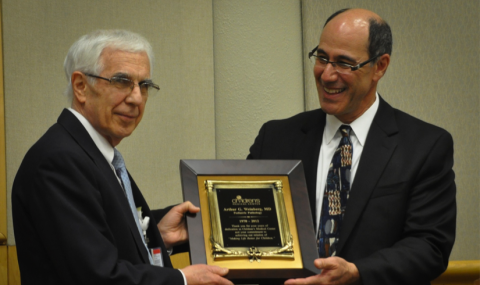 As an academic, he has published more than 120 papers and four book chapters, many with trainees as co-authors. He has served for 42 years as an attending staff physician at both Children's Medical Center and Parkland Memorial Hospital, being a nearly limitless resource of diagnostic knowledge and expertise.
Dr. Weinberg has received many awards and accolades for his outstanding performance. He holds the John Lawrence and Patsy Louise Goforth Professorship in Pathology; he received the Distinguished Service Award in Medicine from Children's Medical Center in 1996; he was named in Best Doctors in America in Pediatric Pathology from 1996 to the present; and he received the Stembridge Award for Pathology Resident Teaching and the John J. Andujar Citation of Merit from the Texas Society of Pathologists in 2005.
In 2004, Dr. Weinberg personally established an endowment to fund an annual Resident Research Award. Each year, a resident has used these funds to further their scientific and academic development. Beyond all the accolades, this generous gesture perhaps best summarizes the character of Art Weinberg. While we wish him well in retirement, we will miss him very much.