Welcome José Torrealba, M.D., to Pathology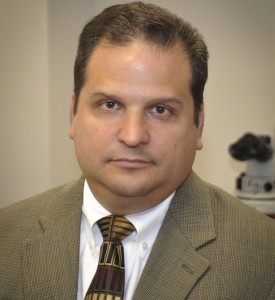 Dr. Jose' Torrealba, M.D., Associate Professor of Pathology, was born in Caracas, Venezuela. He graduated from the Central University of Venezuela "Luis Razetti" School of Medicine, followed by a combined residency in Anatomic and Clinical Pathology at the University of Wisconsin in Madison, and then a fellowship in organ transplant immunopathology at the University of Toronto in Canada.

He came to UTSW from the University of Wisconsin and W. Middleton VA Hospital, where he was a transplant pathologist and Interim Chief of Surgical Pathology. He and his wife, Susanna, have three children – 13-year-old Valerie, 10-year-old Stephanie, and eight-year-old Diego. They currently reside in Carrollton.

Dr. Torrealba chose to come to UT Southwestern because of its excellent academic reputation, tremendous research opportunities, and to be able to live in Dallas. For UTSW, he will be the Director of Renal Pathology, Medical Director of Histology and IHC laboratories, and Associate Director of Anatomic Pathology. His research interests include immunopathology of transplantation tolerance and chronic allograft injury.