Welcome aboard – Allen Hendricks, D.O.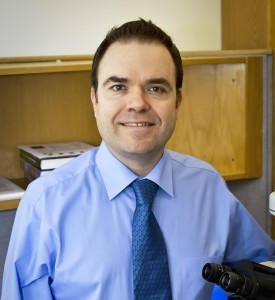 Allen Hendricks, D.O.
, Assistant Professor of Pathology, is originally from Jackson, Missouri. He graduated from Oklahoma State University College of Osteopathic Medicine in 1997 and after an AP/CP residency at the University of Missouri, and a Surgical Pathology Fellowship at East Carolina University, he completed a Renal Pathology Fellowship at Nephropath in Little Rock.
He, his wife Amy, and their one-year-old son, Luciano, have found a home in the Preston Hollow area of North Dallas. Dr. Hendricks chose to come to UT Southwestern because of its excellent academic reputation, the opportunity to practice renal pathology, and its location in Dallas.
He, along with Jose Torrealba, M.D., will be signing out all medical and transplant renal cases from the Medical District and hopefully compete for cases from the Metroplex and North Texas area. His research interests focus on the histopathology of renal arteritis and transplant rejection.