Grange receives Stembridge Medical Student Award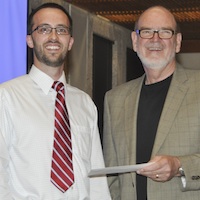 Jacob Grange, a fourth-year medical student, is this year's recipient of the Pathology Department's Vernie A. Stembridge Award.
The award is given in memory of Dr. Stembridge, Pathology Department Chair from 1967 through 1988. He made a tremendous contribution to the profession of Pathology as well as to medicine in general during his career. The award is given annually to a fourth-year medical student who will go to a Pathology residency and who has a record of strong academic performance. The award is $1,500.
Grange will pursue a pathology residency at the University of Virginia beginning in July.