Errol C. Friedberg, M.D., retires after more than 20 years of service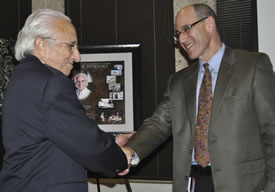 Errol C. Friedberg, M.D., was named Senator Betty and Dr. Andy Andujar Distinguished Chair of Pathology in 1991 after 20 productive years at Stanford.
He oversaw the expansion of UT Southwestern's Department of Pathology into a diversified and modern clinical service provider, a national respected academic unit making consistent contributions of our understanding of immunology and cancer, and a high-quality medical student, resident, and fellowship training environment.
We are greatly appreciative of his years of service and stewardship, tireless support for UTSW, and mentorship and guidance of many highly successful academic pathologists.
We wish him well in whatever journey he pursues next.