Todd Eagar, Ph.D., named winner at annual competition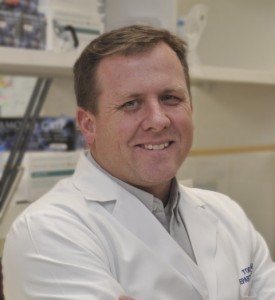 Todd Eagar, Ph.D., Assistant Professor of Pathology and Immunology, was named the winner of the annual Trinkle-Banowsky Abstract and Case Presentation Competition at the Texas Transplantation Society's 25th Anniversary meeting held recently in Galveston.
His winning case presentation was titled, "Compound chimerism post-bone marrow and liver transplantation in a patient with swachman diamond syndrome."
The Texas Transplantation Society, with membership of nearly 300, is a professional association that facilitates transplantation in Texas. Named for two of the society's founding members, J. Kent Trinkle and Lynn Banowsky, the competition awards a $500 cash prize, plus travel stipend for the annual meeting.
Congratulations, Dr. Eagar!