Research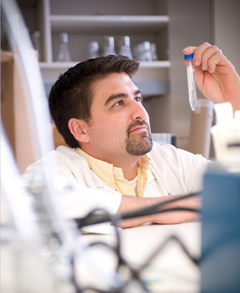 An integral part of the Multiple Sclerosis and Neuroimmunology Program is our extensive basic science research endeavors.
Multiple sclerosis, transverse myelitis, neuromyelitis optica, and other autoimmune conditions have some unique features and biologic processes that overlap.
Research labs at UT Southwestern have made breakthrough discoveries relative to the immune systems ability to suppress autoimmunity, antibody production by the immune system within spinal fluid, the effect of medications on the immune system in MS patients, and the effect of heat on patient functioning and various studies to develop biomarkers of disease.
Labs
Monson Lab
Translational research focused on multiple sclerosis. Investigations include the impact of B cells on MS and the mouse model of MS (Experimental Autoimmune Encephalomyelitis).
Vernino Lab
Focuses on the mechanisms of autoimmune disorders of the nervous system. Use a variety of techniques including animal physiology, cellular electrophysiology, histology, and immunology.