Education
Fellows receive comprehensive training in the clinical evaluation and management of the MS patient and related disorders (e.g. neuromyelitis optica, neurosarcoid, CNS vasculitis, Susac's, transverse myelitis). The complete range of immune-modulating therapies is employed, allowing the fellow to participate in varied treatment approaches and understand different rationales in managing patients with breakthrough disease.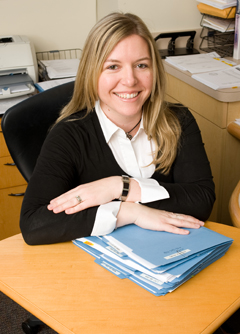 Training will also emphasize neuro-ophthalmologic and neuro-vestibular examination techniques; innovative symptom management of fatigue, spasticity, bowel and bladder dysfunction, sexual difficulties, mood disorders, pain, osteoporosis, and assistive device utilization; and the logistics of working within a multi-disciplinary team.
More information about our Multiple Sclerosis Fellowship Program
Participation in and design of clinical trials will be encouraged, as well as matriculation through graduate level courses with formal didactic teaching on evaluation and design of clinical trials (UT Southwestern has the first NIH-sponsored Clinical Investigator Development Program). Other opportunities in basic science research can also be arranged.