Clinical Care
The UT Southwestern Clinical Center for Multiple Sclerosis, Transverse Myelitis/Neuromyelitis Optica is a dedicated 6,000-square-foot clinical facility that is equipped with 11 exam rooms, two MRI consultation areas, a procedure room, a bone and bladder lab, an ocular motor physiology lab, an optic nerve facility, and extensive support personnel.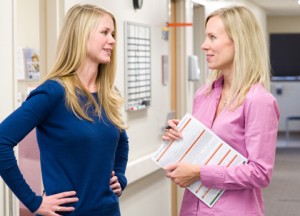 Our dedicated team is comprised of seven neurologists, six clinic/research nurses, two neuro-ophthalmology technicians, three physician-assistants, a nurse practitioner, and two dedicated MS social workers. During any given week, each member of our team is encouraged to engage in a myriad of activities consistent with an academic center of excellence: patient care, global disease management, teaching, writing, and research.
The Pediatric Demyelinating Disease Clinic was established in 2008 and provides inpatient and outpatient care to children and adolescents with multiple sclerosis, transverse myelitis, neuromyelitis optica, optic neuritis, acute disseminated encephalomyelitis, and other autoimmune conditions. The outpatient clinic is located at the Children's Outpatient Pavillion next to Children's Medical Center. Clinics are staffed by a neurologist, physician assistants, neuropsychologists, nurses, ophthalmology technicians, physical medicine and rehabilitation physicians, physical therapists, occupational therapists, social workers, and a school liaison. The Clinic is dedicated to the complex care that patients under the age of 18 require. The service also consults on patients admitted to Children's Medical Center.