Dr. Stephen Cannon's lab creates first mouse models in the world with periodic paralysis
By Julie Kirchem, Department of Neurology and Neurotherapeutics
DALLAS - November 22, 2011 - Starting in 1991, Dr. Stephen Cannon, Professor of Neurology and Neurotherapeutics at UT Southwestern, began investigating how ion channels regulate the electrical excitability of cells and how defects in these channels lead to human disease.
Twenty years later, he and researchers Wentao Mi, Ph.D., and Fen Fen Wu, Ph.D., are finding that patience and persistence are paying off. They recently published a paper detailing the first animal model for hypokalemic periodic paralysis. Periodic paralysis causes transient muscle weakness lasting hours to days.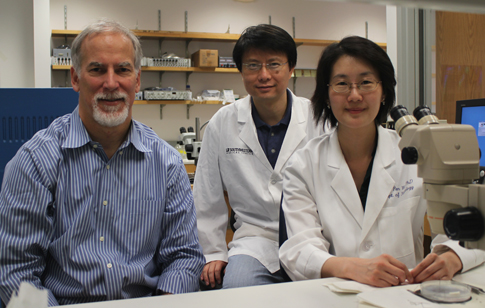 "This is the first model of a mouse with paralysis when the potassium is too low," Dr. Cannon said. "It's important to understand why in one case the provocative trigger is low potassium and in another it's high, because this will have a huge impact on how you care for patients with periodic paralysis."
Three years ago, Dr. Cannon and his co-investigators published the first animal model with hyperkalemic periodic paralysis. The two animal models for periodic paralysis are still the only ones in the world. Their recent paper, "A sodium channel knockin mutant (NaV1.4-R669H) mouse model of hypokalemic periodic paralysis" was published in October in The Journal of Clinical Investigation.
The mouse models could aid in the development of new treatments for the disease as well as other related diseases.
"An obvious clinical application is screening for disease-modifying agents that would reduce the frequency and severity for attacks of weakness," Dr. Cannon said.
"For example, at the moment, there is a large, multicenter trial to compare two carbonic anhydrase inhibitors (acetazolamide vs dichlorphenamide) in patients with periodic paralysis. These tests for superiority could be performed much more easily, cheaper, and faster in the mouse model."


Periodic paralysis is a rare disorder affecting about one in 100,000 people but the findings of Dr. Cannon's lab have key therapeutic implications for other disorders of paroxysmal disruption of cellular excitability such as epilepsy, migraine headache, and cardiac arrhythmia.
Twenty years ago, the discovery of the first ion channel mutation ushered in a competitive period for researchers. Dr. Cannon's lab is one of the few in the world to continue the search for the varied implications of ion channel disease.
By 1992, there were those who thought we're done now but we stuck with it. Where others left the field, what has worked extremely well for us, we kept going back and looking in greater depth at how these channels were affected."

Stephen Cannon, M.D., Ph.D.
"Unlike looking at whether a mutation is there or not, looking at how the mutant channel behaves, that's a much different question," Dr. Cannon explained. "We keep finding nuances that turn out to be very important. Those subtle differences are key to identifying why some patients have primarily stiffness while others have primarily weakness."
The Cannon Lab's steady stream of breakthroughs has led to long-term support from the National Institutes of Health and the Muscular Dystrophy Association. NIH has supported their research since 1991 and four years ago, the Cannon lab received MERIT award status that provides funding for a ten-year period. Dr. Cannon was also awarded another MDA grant in August. It is his third in the past four years.
"This is the kind of disease where there won't be a cure," Dr. Cannon said, "but we can develop disease-modifying agents."
Note: Yu Fu, a student who earned her Ph.D. at UT Southwestern, was also part of the core team and now works in Japan.