Student Interest Group in Neurology (SIGN) has full week of events for Brain Awareness Week
Members of UT Southwestern's Student Interest Group in Neurology (SIGN) got a glimpse into the life of a neurologist during Brain Awareness Week. SIGN provides a real world look for medical students who are interested in pursuing careers in neurology.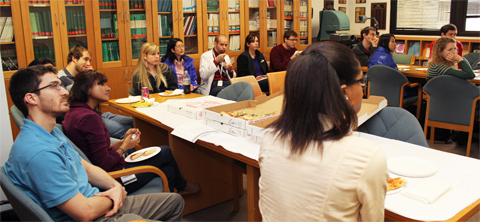 SIGN officers Domenico Gattozzi and Yujie Wang organized didactic lectures and demonstrations for Brain Awareness Week.
"From my experience SIGN is more than a student organization, interest group, or campus activity," Gattozzi said. "It is an opportunity for students to ask neurologists what we want to see and hear about the specialty."
Throughout the year, neurology faculty give presentations to SIGN members on topics like academic research, pediatric patients, neuromuscular diseases, Deep Brain Stimulation, and the interplay of neurology with neurosurgery.
During Brain Awareness Week, students heard lectures from Neurology Department Chair Mark Goldberg, M.D., Dr. Steven Cannon, Dr. Elliot Frohman, and Dr. Benjamin Greenberg. They also watched demonstrations of an EEG and EMG.
"Brain Awareness Week was the high point of SIGN's year, where students met with patients, faculty, and other students interested in the field of neurology," Gattozzi said. "The attendance at the lectures was much larger than the number of medical students choosing neurology as their specialty, and shows a growing understanding, appreciation, and respect for the field."
SIGN sponsors Brain Awareness Week on campus each year.
You can learn more about SIGN on their web page and see more photos on our department Facebook page.