New neuroscience research center offers centralized resource for investigators
By Julie Kirchem, Department of Neurology and Neurotherapeutics
There's been quite a bit of hammering and other construction-related noises on the fourth floor of the James W. Aston Ambulatory Care Center in the past couple of months.
When renovations are complete, the Department of Neurology and Neurotherapeutics will be home to a new research center where principal investigators will have everything they need to conduct clinical research.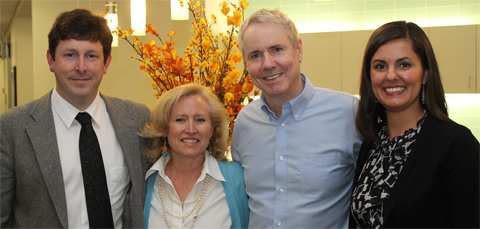 The Neuroscience Clinical Research Center (NCRC), located next to the Neurology Clinic, will offer space, personnel, equipment, and other resources for researchers.
"There is not an equality across the department in terms of support and resources for conducting clinical trials, and we're filling a need," said Chip Lohner, Clinical Research Manager.
The NCRC's resources will also be used for clinical trials conducted through a new grant, NeuroNEXT, that was awarded to the Department of Neurology and Neurotherapeutics by the National Institute for Neurological Disorders and Stroke.
Matt Stowe, Research Programs Manager, assembled a team of experienced clinical research personnel to put the center together.
Lohner, along with Mariam Andersen, Clinical Research Manager, and Caryn Harper, Faculty Associate, have been working for several months to get the space ready at Aston, hiring personnel and collecting necessary equipment.
"The whole intent is to make the principal investigators' lives easier," said Lohner. "Our job is to ensure that researchers have support within the department when they want to do a study."
The NCRC will provide administrative support and a pool of nurses and coordinators who will conduct the studies. The facility will have five exam rooms and one testing room.
For the first time, the department's clinical research efforts will be housed in a central location.
"Research is very cyclical. The NCRC will make for more efficient use of coordinators' time," said Mariam Anderson, Clinical Research Manager. "The coordinators can be backup for each other and have someone there when they need backup."
The research team also expects the NCRC to be a catalyst for new research in the department.
"It's going to encourage those investigators who don't know where to get started but have an idea," said Lohner.
[More details on the NeuroNEXT grant and what it means for research in our department will be in next month's newsletter.]