Fourteen neurology employees recognized for service to UT Southwestern
UT Southwestern's Department of Neurology and Neurotherapeutics honored fourteen employees for their years of service with a special luncheon on May 24. Employees celebrating a 5, 10, 15, 20, 25 or 30-year milestone anniversary of service at UT Southwestern and its hospitals were recognized. Employees honored include those who achieved their benchmark anniversary as of December 31, 2011.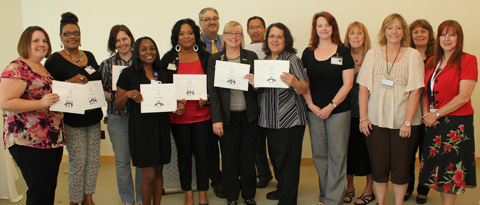 See photo gallery on Facebook.
Employees and their supervisors enjoyed luncheon on the 14th floor of the T. Boone Pickens Building and were awarded certificates and lapel pins. Thirty and twenty-five year employees were given anniversary gifts.
30-year anniversary:
Cheryl Smith, Administrative Associate
Nina Gorham, Clinical Research Coordinator
25-year anniversary:
Doris Svetlik, Clinical Nurse Administrator
20-year anniversary:
Shelly Daniels, Administrative Associate
Cathy Hudson, Clinic Staff Assistant II
15-year anniversary:
Kathleen Koch, Senior Research Nurse
Kristin Martin-Cook, Clinical Research Coordinator
10-year anniversary:
Hillery Gray, Research Assistant II
Jacqulyn Braxton, Billing Specialist
Monique Voelker, Ambulatory Registered Nurse
5-year anniversary:
Xiaodong Ding, Senior Research Associate
Lesli Brown, Senior Administrative Assistant
Erin Shubel, Research Associate
Latosha Brown, Clinic Staff Assistant II

Special thanks goes to Layla Bushnell and Karey Johnson who organized the event and the supervisors who attended the luncheon to honor their employees.