Clinical Center for MS Receives Top Scores from Patients
By Julie Kirchem, Department of Neurology and Neurotherapeutics
The Clinical Center for Multiple Sclerosis received the UT Southwestern Superior Customer Service Award on the most recent Press Ganey survey.
The MS Clinic staff exceeded the 95th Percentile in two of the three service scores. Press Ganey interviews a sampling of patients about all aspects of a clinic visit.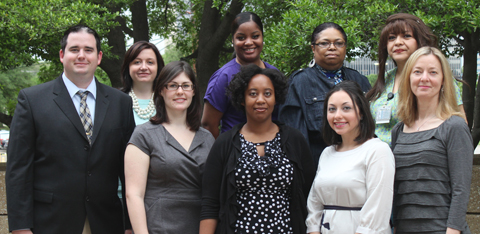 Dr. Benjamin Greenberg, Deputy Director of the Multiple Sclerosis Program, credits the whole team at the MS Clinic for the high score.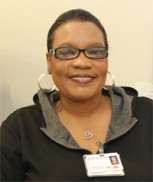 "It's a ranking of the entire service line. That 95th percentile is more a reflection of what staff are doing versus physicians," he said.
Two staff members who interact with almost every patient are Cathy Hudson, CSA, and Yatice May, CSA II. Hudson mans the front desk and has a smile for every patient who visits the clinic. The Press Ganey surveys ask patients about every part of their visit from valet parking to the front desk to the physician visit. Another important part of a clinic's customer service is how patients are treated on the phone.
Yatice May spends just about every minute of her day on the phone with patients -- she answers about one hundred calls per day.
"Yatice is always very polite, very nice, never breaking a sweat. And she is often talking to people who aren't feeling very well and might be frustrated," said Dr. Greenberg. "Her job is an ongoing blitz."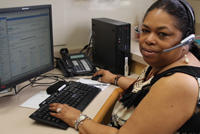 Yatice May, CSA II
MS Clinic
May makes dozens of decisions each day regarding patients and has the knowledge and experience to know when a phone call is crucial and she needs to page a physician, or when it's something that can wait. But she says the most important part of her job is making a connection with patients over the telephone.
"The most important thing I do everyday is humanizing the disease and giving people hope," she said.

May credits the physicians and nurses at the MS Clinic with making her job easier.
"I can communicate with them easily. They're accessible," she said. "I never feel like my question is too much of a lay question."
"Yatice is on the frontline," said Dr. Greenberg. "If we don't have her and her colleagues whom we trust to take ownership and pride in the work they do, there's no way for a patient to get quality care."
The customer services award comes with a $1,000 check for staff that may be used to recognize the team for their efforts.