Gregory Carter, M.D., Ph.D., elected president of Southern Sleep Society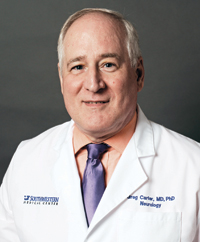 Dr. Gregory Carter has been elected president of one of the most prestigious and successful regional professional societies in the United States, the Southern Sleep Society. Dr. Carter, Associate Professor of Neurology and Neurotherapeutics, was elected at the Society's annual meeting in March. He will serve for the 2012-2013 term.
As president, Dr. Carter has arranged for the Society's 2013 annual meeting to be held in Dallas. The yearly gathering includes presentations on sleep research, updates in clinical practice, and laboratory management and technology changes.
Dr. Carter said holding the Society's meeting in Dallas will have a positive impact on faculty and the growing sleep medicine program at UT Southwestern.
"The opportunity for our faculty to address the participants not only shows our expertise to the region, but encourages faculty and staff development," he said.
UT Southwestern has several nationally recognized researchers in circadian rhythm disorders, orexin systems, and adenosine regulation of wakefulness, among others.
"The ability to showcase those research efforts will be an important step towards developing a cohesive sleep program at UT Southwestern, " Dr. Carter said.
The Department of Neurology and Neurotherapeutics is a major player in the development of the clinical program of sleep medicine on campus.
Learn more about the UT Southwestern sleep medicine clinic.
Dr. Carter is part of the Sleep Medicine Division in the Department of Neurology and Neurotherapeutics and is also director of the newly-established sleep medicine fellowship.