Neurology nurse Mandy Dirickson brings stroke education to first responders
Mandy Dirickson, R.N., M.S., ANP-C, has worked with acute stroke patients at UT Southwestern for more than four years. As an associate clinical provider, she knows firsthand the kind of care that will give stroke patients their best chance at recovery.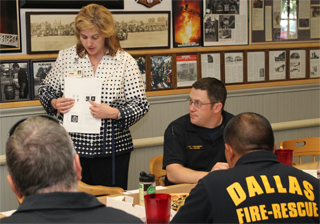 Now, Dirickson is taking her expertise beyond the stroke unit at Zale Lipshy University Hospital. Since March, Dirickson has taken on a new role as Stroke Outreach Coordinator. Her goal is to educate first responders and others about how to recognize a stroke and the best first steps to take.
"Since EMS is the first link in the stroke chain of survival, coordinating care with EMS includes review of stroke identification and treatment management," she said. "As a University that can offer comprehensive services, we want to keep the EMS responders up to date on the latest in emergent stroke care."
Recently, Dirickson visited Dallas Fire Station #11 in Oak Lawn. She talked about the often subtle signs of stroke that can be missed even by trained responders. She is also spreading the word about the services available at UT Southwestern for acute stroke care.
"We are not only a primary stroke care center at St. Paul, but also for the region," she said. "Zale is a tertiary center with advanced services in neurosurgery, neurointerventional, and neurocritical care, so getting this information out to others in frontline stroke care makes a big difference."

Dirickson has future outreach events planned with church groups, long-term care facilities, and rural hospitals that need help with nursing education. In addition, UT Southwestern's Stroke Program is active in the American Heart Walk and The Brain Injury Association Walk for Thought and offers stroke education at health fairs throughout the year.