Cutting-edge research into mechanisms of neurodegenerative diseases takes center stage at upcoming symposium
By Julie Kirchem, Department of Neurology and Neurotherapeutics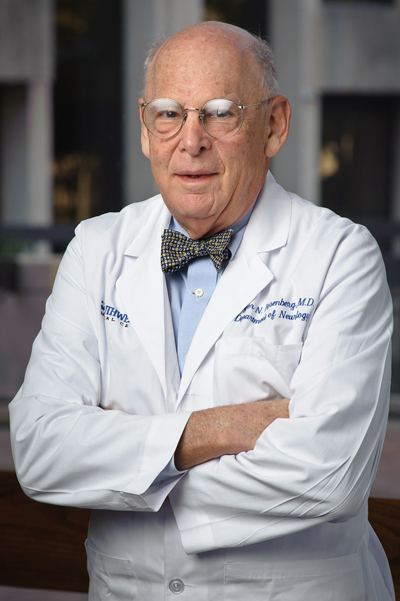 DALLAS - Jan. 18, 2012 - UT Southwestern's Alzheimer's Disease Center (ADC) will present a symposium on Friday, February 10, 2012, in the Simmons' Auditorium (NB2.200) to communicate to researchers across campus about the advances being made here at UT Southwestern toward unraveling the mechanisms of neurodegenerative diseases.
"The purpose is to demonstrate to the university community that great scientific progress is being made to define the biology and develop therapy for Alzheimer's disease and other neurodegenerative diseases at UT Southwestern and worldwide," said Dr. Roger Rosenberg, Director of the ADC and Professor of Neurology and Neurotherapeutics and Physiology.
"If you look at the neuroscientific literature, there is clear evidence that major scientific discoveries about the biology of neurodegenerative diseases are being discovered. We at UT Southwestern are very much a part of this general march," he said.
A major goal of the symposium is to increase interest among faculty, residents, fellows, post docs, and doctoral students in the field.
The ADC is sponsoring the event, titled "Translational Research in Mechanisms of Neurodegeneration," as part of its mission to share its research and spark new scientific investigation on campus.
"We want to let faculty, residents, fellows, postdocs and students know that if they want to pursue research into Alzheimer's or autism or other neurodegenerative diseases, they can get involved in cutting-edge, competitive research right here at UT Southwestern," Dr. Rosenberg said.
The keynote lecture will be given by Nobel Prize Winner Bruce Beutler, M.D., who will speak about inflammation and how it works as a cause of neurodegenerative disease. Dr. Rosenberg recruited Dr. Beutler to UT Southwestern as a neurology resident in 1982.
Agenda:
The morning session will emphasize therapeutics and neurodegenerative disease and will be chaired by Mark Goldberg, M.D.
Andrew Pieper, M.D., Ph.D., will give insight into the potential protection therapy that he and Steve McKnight, Ph.D., have developed.
Dr. Rosenberg will give an update on another preventive therapy for Alzheimer's – a DNA vaccine that would lead to the removal of brain-accumulated amyloid.
Craig Powell, M.D., Ph.D., will talk about his research into the relationship between autism and degeneration of synaptic function.
Joachim Herz, M.D., will end the morning session with a wrap-up of therapeutics for neurodegenerative disease.
The afternoon session will be focused on basic science and will be chaired by Joseph Takahashi, Ph.D.
James Malter, M.D., will share his research on how amyloid is processed and metabolized at the synapse.
Philipp Scherer, Ph.D., will talk about the energy machinery of mitochondria and problems with energy generation in Alzheimer's disease.
Ilya Bezprozvanny, Ph.D., will discuss the interrelationships of presenilins, calcium signaling, and Alzheimer's disease.
Gang Yu, Ph.D., will discuss the biology of frontotemporal dementia and potential new therapies.
Weichun Lin, Ph.D., will discuss the regulation of synapse formation by ApoE receptors and the amyloid precursor protein.
The symposium ends with time for a general discussion.
Lunch will be provided in the lobby outside the lecture hall where posters by ADC faculty will be displayed for continued discussion.
###