Adult Residency Program Schedule
The adult neurology residency training schedule at UT Southwestern Medical Center represents the culmination of many years of refinement and incorporation of input from trainees. The schedule provides a balance of clinical work in a variety of practice settings, didactic instruction, and flexibility.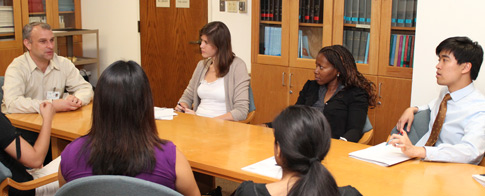 Training begins with a gradual introduction to the practice of neurology and culminates in increasing autonomy and responsibility. Our graduates are incredibly competent and confident. The schedule below represents an approximate schedule for residents in the categorical program.
Postgraduate Year 1 – Medicine Internship
Residents spend their first year as an integrated member of the UT Southwestern Internal Medicine Residency Program. This year is organized in a "4+1" schedule. Residents have a week of outpatient clinic after each 4-week block of inpatient service.
Eight blocks of internal medicine training – general medicine wards (4), medical ICU (1), medicine consults (1) such as infectious disease or nephrology, cardiology (1) and CCU (1)
Headache medicine (1) and emergency medicine (1).
During the PGY-1 clinic weeks, neurology residents spend a third of the week in their own neurology continuity clinic, a third of the week in general neurology clinics at the VA, and a third of the week in other outpatient specialty clinics (such as PM&R, rheumatology, ophthalmology).
June is the final month of the PGY-1 year and is a dedicated "Introduction to Neurology." This unique experience is devoted to education without major clinical responsibilities. Residents attend small group review sessions of neuroanatomy, neuropharmacology, and neuroradiology. They also get focused instruction in performing general and subspecialty neurological history and examinations, basic training in common neurology procedures, basic clinical neurophysiology, and physicianship. The remainder of the month is a clinical overview of subspecialty and general outpatient neurology with one-on-one interaction with faculty and senior neurology residents.
Postgraduate Year 2 – Introduction to Neurology
The focus of the PGY-2 year is direct care of hospitalized patients with neurologic disease. However, outpatient neurology experiences (general neurology continuity clinic, behavioral neurology and neuro-oncology) are interspersed. Residents spend approximately eight months on the neurology inpatient and consult services at the teaching hospitals. During these rotations, residents develop diagnostic skills and become familiar with management of acute neurologic issues under the supervision of senior residents and attending faculty.
A typical PGY-2 rotation schedule is listed below.
Parkland stroke service [8 weeks]*
Parkland general neurology service [8 weeks]*
Parkland neurocritical care unit [4 weeks]*
Epilepsy monitoring unit (EMU) [4 weeks]
Zale general neurology service [4 weeks]
Clements hospital neurology consult service [4 weeks]
VA neurology consult service [8 weeks]
Behavioral neurology [4 weeks]
Neuro-oncology [4 weeks]
Vacation [3 weeks]
For the PGY-2 residents, overnight call on the Parkland Hospital services (*) is once every five nights (during about 5 months of the year). A senior resident (night float) takes in-house call with the junior resident till midnight to provide supervision and teaching. While on inpatient services, the residents do not have outpatient clinic responsibilities, and while on outpatient rotations, residents never have call responsibilities.
During most months, rotating interns and medical students work closely with the neurology resident. At Zale Lipshy University Hospital, residents provide specialized care to patients with neurological illness. PGY-2 residents on the Zale and Clements University Hospitals have no overnight call responsibilities.
Postgraduate Year 3 – Mastering your Skills
PGY-3 residents have a more diverse experience including three months with child neurology at Children's Medical Center and Texas Scottish Rite Hospital for Children. Subspecialty selective rotations with neuromuscular, movement disorders, and electroencephalography are scheduled, and elective rotations are available in a host of other areas. PGY-3 residents also participate in consultation services for psychiatry and inpatient neurology.
A typical PGY-3 rotation schedule is listed below.
Child neurology consult service [8 weeks]
Outpatient child neurology clinics [4 weeks]
Neuromuscular/EMG clinic [6 weeks]
EEG [4 weeks]
Movement disorders clinic [4 weeks]
Psychiatry consult service [4 weeks]
Elective time [6 weeks]
University hospital night float [2 weeks]
Parkland emergency room neurology [2 weeks]
Zale general neurology service [4 weeks]
Clements hospital neurology consult service [4 weeks]
Vacation & conferences [4 weeks]
Residents may choose from a wide variety of clinical and research electives. Some electives are essential to the training of a well-rounded neurologist such as multiple sclerosis, sleep medicine, and neuroradiology. Other electives may be coordinated exclusively to meet the career goals or interests of one resident. Popular and unique electives at UT Southwestern include neurosonology, MS, neuro-ophthalmology, and neuro-otology. Residents with academic interests may devote elective time to a clinical or basic science research project under the supervision of a faculty member.
There are no on-call responsibilities during outpatient rotations.
Postgraduate Year 4 – Becoming a Neurologist
The senior resident fills a major teaching and supervisory role and is essential to the education of medical students, interns, rotating residents from other programs, and junior neurology residents. The senior residents also learn to make appropriate triage and treatment decisions on acute patients. By the end of the PGY-4 year, the resident has become a fully competent neurologist.
A typical PGY-4 rotation schedule is listed below.
Parkland stroke service [6 weeks]
Parkland general neurology service [6 weeks]
Zale general neurology service [4 weeks]
Clements hospital neurology consult service [4 weeks]
VA neurology consult service [4 weeks]
Parkland night float [4 weeks]
University hospital night float [4 weeks]
Parkland emergency room neurology [4 weeks]
General neurology access clinic [4 weeks]
Elective and research time [10 weeks]
Vacation [3 weeks]
PGY-4 residents do not have overnight call responsibilities. During the night float or emergency room rotations, the senior resident has primary responsibility for making triage and admission decisions for acute neurology cases with oversight from the attending neurology faculty. The general neurology access clinic gives the senior resident an experience similar to outpatient neurology practice with a focus on consultation billing and documentation skills.
The residents and faculty elect three PGY-4 residents to serve as Chief Resident. The chief residents assist with rotation and conference scheduling as well as representing the program on campus.
Research Opportunities
UT Southwestern is a center of research excellence. Many of the Neurology and Neurotherapeutics faculty are not only outstanding teachers and clinicians, but also direct successful clinical or basic science research programs. All residents are expected to participate in a scholarly project during residency, and PGY-4 residents give an oral presentation of their research at the neurology research days in May of their senior year. Most perform short-term projects which do not require time away from the residency curriculum. Longer-term projects lasting several months can be accommodated during the residency by using elective time. Many of the neurology subspecialty fellowships available at UT Southwestern are in one of the clinical or basic neuroscience research laboratories. For selected residents with a strong potential toward careers as clinician-scientists, we offer a structured research track.
Research Track
The UT Southwestern neurology residency program has been awarded an R25 research education grant from NINDS to support training for clinician scientists. The R25 research track is led by Dr. Marc Diamond, Director, Center for Alzheimer's and Neurodegenerative Diseases. Applicants interested in the research track should apply through ERAS for BOTH the research track and the regular categorical neurology program at UT Southwestern. During recruitment, candidates for the research track will interview for the regular neurology program and also receive additional information and interviews with research faculty. One resident per year can be matched to the R25-funded residency research track in the NRMP match. Additionally, qualified residents in the categorical neurology program can apply during their PGY-2 year to enter the research track.
The research track schedule includes 6 months of dedicated research time during the PGY-4 year of residency as well as the expectation to complete a year of post-residency research either in addition to or in combination with a subspecialty clinical fellowship. The goal of the research track is to prepare the neurology resident for a career in academic neurology as a clinician-scientist. In addition to research time, the program provides mentorship, workshops on manuscript and grant-writing, and training in research methodology. Research track residents are expected to produce and submit an initial K grant application.
Teaching Conferences
Daily neurology attending rounds are conducted on the inpatient and consult services. Grand Rounds are held every Wednesday at noon. Neurology residency didactics are held every Thursday afternoon and residents are excused from other duties to attend. Additional teaching conferences include afternoon report, weekly neurophysiology case conferences, neuroradiology review conferences, M&M/QI conference and journal clubs. One of the high points of the week is live patient-professor rounds conducted by Roger Rosenberg, M.D. An inpatient selected by the chief resident is examined by Dr. Rosenberg to highlight the historical and examination findings of interest, followed by a discussion of the diagnosis.
Subspecialty conferences include a weekly neuro-oncology tumor conference and brain cutting, and a series of weekly seminars including journal clubs, muscle and nerve biopsy conference, and EMG review.
Electives
Residents have up to 38 weeks of flexible elective/selective time during residency. Behavioral neurology, neuro-oncology, headache, neuromuscular, movement disorders and EEG rotations are recommended and scheduled for all residents. An impressive array of established clinical electives are available to fill the remaining elective time. Residents work with experts using state-of-the-art tools in subspecialties of neurology or related fields including neuroimmunology (MS and autoimmune neurology), neuro-ophthalmology, neuro-otology, sleep medicine, autonomic disorders, palliative care, spinal cord injury, sports neurology, neurorehabilitation, neuroradiology, interventional neuroradiology, neurosonology (carotid and transcranial doppler), or neurosurgery. Residents may also select additional experience in core subspecialties like neuromuscular, movement disorders, epilepsy, or neurocritical care. Some elective time is usually devoted to a research project under the supervision of research faculty.
Resident Evaluations
All residents receive formal constructive evaluations with escalating standards each year of their training. Live patient practical examinations are administered at least once each year with volunteer patients. During these "oral" NEX examinations, two attendings observe the resident take a history, perform a neurologic examination, and discuss a differential diagnosis and work-up. These examinations help residents hone their clinical skills as well as fulfill the requirements for neurology board certification. In addition, all residents participate in the annual Residency In-Service Examination administered by the American Academy of Neurology.