Cognitive and Memory Disorders Division
The Division provides comprehensive diagnostic evaluations and excellent care to patients with cognitive and memory disorders. Our faculty educates residents and medical students, and conduct clinical and basic research.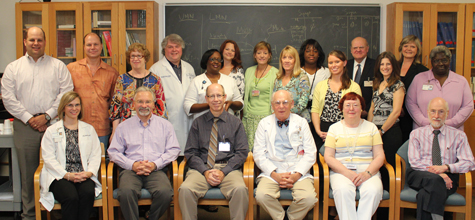 All of our faculty are affiliated with the Alzheimer's Disease Center which studies the neuropathology of Alzheimer's, provides education and outreach to the community, supports data management, and provides administrative functions. The ADC brings together investigators from many departments and divisions including Neuropathology, Neuroscience, and Radiology.
Roger Rosenberg, M.D. who holds The Abe (Brunky), Morris and William Zale Distinguished Chair in Neurology, is head of the Cognitive and Memory Disorders Division at UT Southwestern and is director of the National Institutes of Health-funded Alzheimer's Disease Center (ADC). He joined the UT Southwestern faculty in 1973, served as Chair of Neurology until 1991, and became Director of the ADC in 1988.
Research
At UT Southwestern, an interdisciplinary research team pools its talents to study the nature of Alzheimer's disease from many vantage points. Research is ongoing, moving closer to improved diagnosis and caregiving techniques, medical intervention, etiology, and eventual cure.
The Cognitive and Memory Disorders Division is involved in a number of clinical and research activities in neurodegenerative diseases and disorders of higher cognitive function.
The ADC conducts clinical and basic science research through the NIH/NIA-Alzheimer's Disease Center P30 Grant, supporting investigator-initiated research, and maintaining research collaborations with scientists at UT Southwestern, the Center for Brain Health, and the Center for Vital Longevity.
Education
Faculty members educate neurology residents, geriatric psychiatry residents, other rotating residents, and medical students in cognitive and memory disorders at the Neurology Clinic - Memory at the James W. Aston Ambulatory Care Center, and on the inpatient service. The Division provides a weekly research seminar in cognitive and memory disorders, including lectures by Division members and other UT Southwestern faculty doing research in this area. One session each month is a case conference.
Clinical Programs
Patients with Alzheimer's disease, Mild Cognitive Impairment, Frontotemporal Dementia, Dementia with Lewy Bodies, and less common syndromes are evaluated by the Memory/Behavioral Neurology faculty in the General Neurology Clinic at the James W. Aston Ambulatory Care Center.
The Alzheimer's Disease Center provides information about Alzheimer's research at UT Southwestern and offer supports and tips for people living with Alzheimer's.