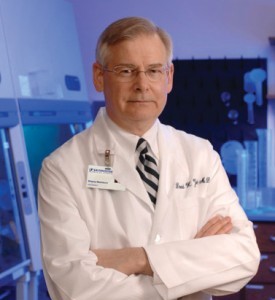 When I first joined the faculty at UT Southwestern Medical Center in July of 2010, I was convinced I was coming to a great place for education, for research, and for patient care. The short time I have been here has confirmed how right that early impression was and continues to be.
In the UT Southwestern Department of Internal Medicine, we strive to be academic in the fullest sense of the word, with no neglect of teaching, clinical care, or scientific investigation. Internal Medicine's operating motto is simple, yet profound:
We are justifiably proud of our Internal Medicine faculty that includes two Nobel Prize Laureates, Howard Hughes Investigators, and multiple members of the National Academy of Sciences, the National Academy of Medicine (formerly the Institute of Medicine), the Association of American Physicians, the American Society for Clinical Investigation, and the American Academy of Arts and Sciences, among others. In addition, many of our faculty have served in leadership roles within the American Board of Internal Medicine, the American College of Physicians, and numerous subspecialty societies.
"We want to be better next year than we are this year. Nothing less. Nothing more."
UT Southwestern Medical students, including those rotating through Internal Medicine, have access to some of the best clinical training facilities in the country. Parkland Memorial Hospital, Dallas County's public health care center, is the primary teaching hospital of the Medical School; other affiliated hospitals, such as our two University Hospitals, William P. Clements Jr. University Hospital and Zale Lipshy Pavilion—William P. Clements Jr. University Hospital, the Dallas Veterans Affairs Medical Center, and Children's Medical Center Dallas, add to a clinical experience that is exceptional and unmatched.
The Internal Medicine area of this website includes levels of detail about each of our divisions, information about our residency and fellowship programs, and much more.
As my friend and colleague Greg Fitz, M.D., Dean of the Medical School, has written elsewhere, it is within the context of limitless possibilities that UT Southwestern seeks to educate physicians and scientists for the future of medicine, today.
I hope the information you find on this website will be helpful as you explore centers of excellence in medical education, research, and patient care. If you have further specific questions about Internal Medicine, please contact us. Come help us be better next year than we are this year. Come help us build the future of medicine, today.