Research Activities in Med-Peds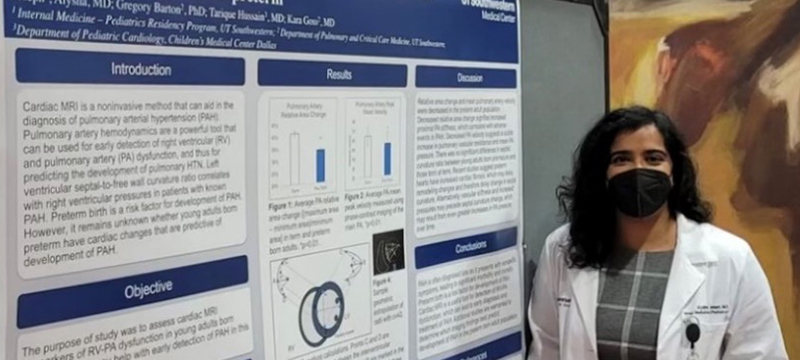 Dr. Alysha Joseph presenting her research at the Seldin Symposium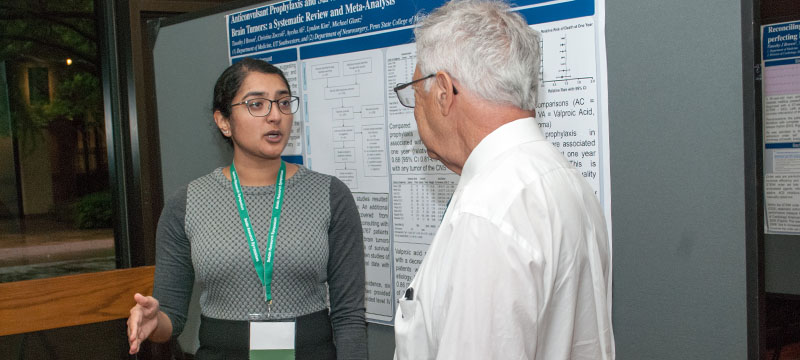 Dr. Mridula Nadamuni discusses her poster with Dr. Michael Brown, one of UT Southwestern's Nobel Prize-winners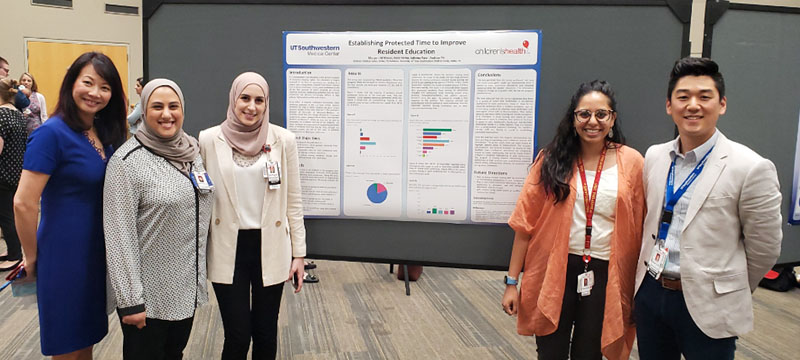 Pediatric Residency Scholarly Project Symposium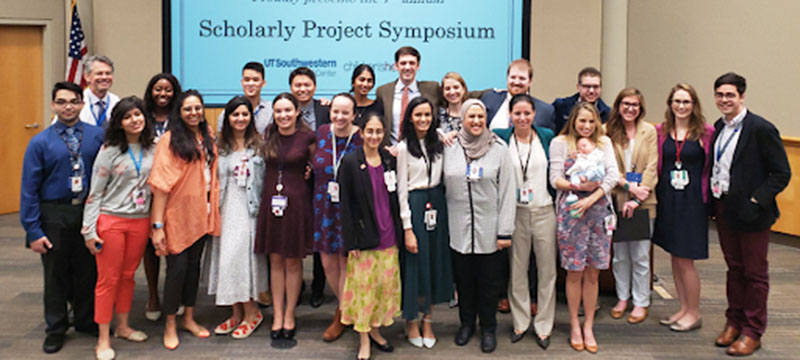 Pediatric Residency Scholarly Project Symposium
Scholarly Project
The scholarly project is an opportunity to investigate an issue over the course of your residency and produce a meaningful contribution to the academic, medical, and educational community. With supportive leadership and infrastructure, residents can enrich their skills and become experts in their area of interest.
Scholarly project areas of interest:
Global Health: Residents can gain experience in international medicine and public health through the Global Health Education Program, which is focused on equipping them to engage in sustainable, effective, ethical health care initiatives wherever they may build these partnerships. Established Internal Medicine and Pediatric partnerships currently exist in various sites in South Africa and South America and continue to expand.
Quality Improvement: Residents can explore the relationship between health services and outcomes with dedicated faculty in Internal Medicine and Pediatrics.
Research: Residents can complete basic science or clinical research in a specialty of their choice. UT Southwestern's robust research program enables residents to hone their research skills by working directly with experienced mentors who will nurture their ideas and help them succeed.
Advocacy: Residents have the opportunity to learn about and engage in advocacy in both pediatrics and medicine. They can go beyond the community health training that's part of the core curriculum and onto the front lines of healthcare advocacy.
Transitional Care: Residents can bridge the gap between child and adult care delivery, which is a field that is undergoing significant changes and improvements, and become leaders in this increasingly important field.
Education: Residents can explore ways to improve patient education models and reach many different audiences. This can include medical student, resident, and attending education, as they find ways to engage learners across the board.
Advising and Mentorship
Having the right mentors can define an entire career path. And in a dual program like Med-Peds, where the career opportunities abound, it is especially important to find experienced, trusted faculty members who can identify the opportunities and resources to develop a resident's unique strengths. At UT Southwestern, that support is offered from Day One, with approachable faculty who will guide and support residents every step of the way. The strength of our mentoring program comes from leadership. The department chairs and categorical program directors believe in and support the Med-Peds program. The greatest value of this program is the focus on the individual. Every resident is cared for and given a safe place to learn, to vent, and to grow. The result is a collaborative, ambitious program where residents do not just survive; they thrive.
"Our Med-Peds program leadership is committed to connecting residents to those individuals that might uniquely serve to support their path"
We believe that residents can thrive best when they have an array of support in different domains. Some relationships can be assigned to a resident while others occur organically as a resident builds relationships in the UTSW community. Still other guides along the journey come from the connections and resources of others, and the Med-Peds program leadership is committed to connecting residents to those individuals who can uniquely support their path.
Advisors
An advisor often plays the role of a coach, inspiring residents to ponder their own journey, asking questions to encourage self-reflection or nudging them in a direction that aligns with their goals. Advisors can help residents meet the general expectations of training while also carving out an individualized path that is both rewarding and challenging. In our program, advisors are assigned to ensure every resident gets one-on-one feedback and support throughout their journey and help connect them with potential career mentors who may be a good fit.
Mentors
Mentors typically provide guidance and practical support through both professional and personal challenges. They bring their own lived experience to the mix, helping to normalize struggles and celebrate triumphs. Mentorship relationships can be formal or informal, but they tend to be most impactful and a mutual good fit when they arise organically.
Sponsors
Sponsors are advocates who utilizes their own connections or resources to support the career trajectory of others. Because sponsoring another person involves taking a risk, these relationships are typically born out of relationship or impactful exposure to a resident's strengths. The UTSW community has a deep network of generous sponsors who delight helping advance trainee's careers.